Free Tutoring for Surrey based Gypsy and Traveller Adults 18+
1 April 2022
Want to learn to read and write? Are you home educating and want to learn more skills to teach the children?  Want to learn something new completely? We can teach anything!
Surrey Community Action, a local charity in Surrey, has launched a tutoring project called Skills Impact, to deliver a wide range of learning support.  This could include learning how to read and write, fill in forms, create a CV, use the internet or manage a budget.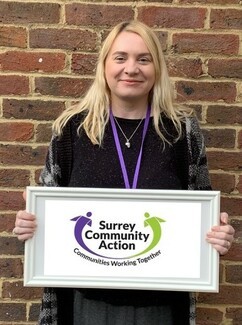 Vicky Nash (pictured), Skills Impact Co-ordinator and Tutor said: "We want to give people extra skills to help them in everyday life. Sessions can take place at home or in a local venue like a coffee shop. We can teach students to read and write from scratch, learn a new subject or improve existing skills. You may want to learn how to write better emails or practice the driving theory test– we can teach anything! We put together a plan with the student that works best around their lives – so if you are working or looking after family, that's not a problem, we'll find the right time to make it work."
Tutoring sessions are relaxed and at the student's own pace.  Most students will need six sessions but more can be added depending on what is being learned.  Skills Impact Tutors can travel anywhere in Surrey and if you are just stopping for a few weeks – we can do sessions that fit into that too. Students don't need a computer – we provide all the things needed for learning.
Vicky adds: 'The tutoring is fun, powerful and about building confidence.  If you are not sure what kind of help you need then we can have a chat over the phone or over a cup of coffee. It's never too late to learn."
Contact Vicky on 07395 117392 or email vickyn@surreyca.org.uk
---