Spotlight on aspiring barrister Crystal Smith
6 May 2021
"I have always been deeply interested in human trafficking/modern slavery and always knew I would do something around that. It was my interest in that which made me lean towards being a barrister", says Crystal Smith.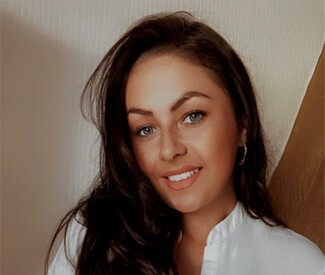 TT: Tell us a bit about yourself and your background
CS: My Dad is a Traveller and my Mother isn't. I was born in Cumbria, but when my parents split up we moved to Doncaster, so I have lived two very different lives living between the two. My Dad has mainly lived in a house but a lot my family most live in trailers still on the road and move every now and again (not without stigma!). I've definitely always been more like my Dads side, I love to travel and move around and have lived in Manchester, Doncaster, Leeds, and Cumbria. I've even had a placement in China and lived there for 3 months. I spent most of last year in a trailer during lockdown by the sea with my cousin out of the way doing most of my Uni work from my mobile hotspot! But I have recently come back into a house and just go back to the site for the odd day as I'm mid exams. I have always attended school even though I have moved around a lot. I have had 4 primary schools but only one high school, but when I was in high school I had 4 different houses in that time.  
TT: What were your favourite subjects at school? 
CS: I have always loved complex subjects such as ethics and philosophy and RE as I love learning more about the world and different perspectives on things. I have always hated maths and failed GCSE 4 times so I completely gave up on that one, but still it hasn't hindered me (yet).
TT: What made you interested in the law? 
CS: I have always been deeply interested in human trafficking/modern slavery and always knew I would do something around that. It was my interest in that which made me lean towards being a barrister. Seeing the work of Parosha Chandran and Caroline Haughey I'd like to follow in their footsteps and do work similar in modern slavery, give seminars and host events etc. 
TT: Where did you do your degree?
CS: I've never been an A* student so I had to do a foundation degree with MMU (Manchester Metropolitan University) to get onto my degree. I then decided to finish my degree with the OU (Open University) as I like my freedom and didn't want to be tied to Manchester for 3 more years. I then moved back to Doncaster to complete my degree and then Cumbria for my final year. I am not back at the MMU doing my BPTC (The Bar Professional Training Course)
TT: What was the hardest bit? 
CS:Public law was my least favourite subject. I struggled throughout the whole unit but somehow got 80% on my final exam!!
TT: What was the best bit? 
CS: Having the flexibility was my favourite part. I like to study on my own terms which was why I was fond of the OU.
TT: What is your current job? 
CS: I am currently working for the NHS as an administrator. I initially took the job temporarily as until I found one in a firm but I absolutely love it and have chosen to stay. I have also just got a position at my local prison in the healthcare unit for mental health, drug use etc which I absolutely cannot wait to start. I will keep both jobs. I have not applied for any pupillages (Pupillage is the final step towards qualification as a barrister) this year so I have applied to get my teaching qualification this September and hopefully eventually practice as barrister part time and part time lecture like my tutors. 
TT: What are your ambitions?
CS:Again I just want to make a different in relation to human trafficking. As It is a grey area of law I would like to assist develop those laws and make an impact if I can. 
TT: What was it like having a virtual ceremony?
CS: Very strange!  Definitely not as nearly as exciting as the real thing but better than nothing. I only wore my cap and gown for pictures with my family. I didn't have a celebration as I had one last year when I received my degree. I'm saving the big one for the BPTC ceremony (thats if I pass).
TT: What was 'lockdown life' like for you?
CS:The first one wasn't too bad, I missed furlough cut off date by a few days so I had 0 pay so I was really struggling but as I mentioned I was isolated out the way with my family by the sea so it involved lots of wine, bbq's and family time. The second lockdown was better as I was working for the NHS and therefore it kept me busy. 
TT:What would you tell other Gypsy and Traveller people who were interested in doing a degree?
Just go for it! My family get worried that nobody will want to hire a Gypsy but it really doesn't bother me - I've always had thick skin and peoples opinions just go over my head. I don't always think the stigma is as bad as people say as long as you're a good person yourself. Plus so much more people are looking for diversity so if anything it's a green tick! Just do you. 
Thanks for taking the time to talk to us Crystal - we look forward to seeing your career progress - you're an inspiration! 
By TT Team
---