Teaching Gypsy, Roma and Traveller history Historical Association
5 July 2021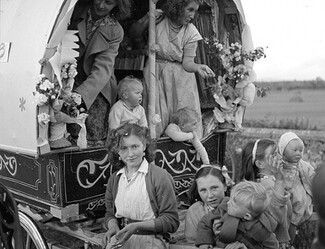 Dr Becky Taylor, Professor of Modern History at the University of East Anglia (and Editor-in-Chief of 'History: The Journal of the Historical Association') recorded two podcasts on Gypsy Roma Traveller history back in February for the Historical Association (which mainly works with history teachers across the UK at all levels) that they released for #GRTHM21 which also includes some useful links for teachers. 
In the podcast Becky explains how she came to research the history for Gypsies and Travellers herself and explains why she feels it is that Gypsy. Roma and Traveller history is less taught in universities as well as in schools.
there are big bits of British history missing from the history books
"I was with my then partner in Winchester when we bumped into an old friend of his who was an older Romany Gentleman" Dr Taylor explains "when he found out I was reading history as an undergraduate he said 'I bet you don't know what Gypsies and Travellers did in the second world war, you won't find that in any history books' and it got me thinking, it had never occurred to me that there are big bits of British history missing from the history books. 
She went on explain that a problem with written accounts is that they are mostly from the state and about problems, in this way her work shares a similarity with research about other less powerful groups of people, the noise and the silences in the archives need to be carefully thought about for what they reveal, oral histories are important, and a breadth of understanding of context is vital.
By TT Team
You can read more and listen to the podcasts HERE
---