Samson Rattigan invited to Queens garden party
14 June 2019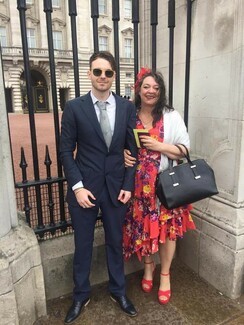 Samson Rattigan was invited to attend the Queens Garden party in recognition of the positive impact he has had in his local community through his work with young Gypsies and Travellers. 
Every summer, The Queen hosts three Garden Parties at Buckingham Palace. Historically, Garden Parties took the place of presentation parties attended by debutantes, and have evolved into a way of recognising and rewarding public service.  The garden parties are an important way for The Queen to speak to a broad range of people who have made a positive impact in their community.
One of the invitees was Samson Rattigan, a Traveller, from Brighton. The 28-year old works as an outreach and youth worker for Friends Famillies and Travellers (FFT) a leading national charity that works on behalf of all Gypsies, Roma and Travellers regardless of ethnicity, culture or background. 
Sarah Mann Director of the organisation said, "We are immensely proud of the work that Samson does at FFT and are pleased to see him recognised at the Queen's Garden Party. Samson joined us through our paid internship scheme and has been a key contributor to our local health work and youth engagement work. Samson is not one to boast but is quietly hard at work behind the scenes at FFT and has done a huge amount to help young people locally!"
Speaking to The Travellers' Times Samson said, 'It was nice for my work to get recognised and to be invited to Buckingham Palace for the royal garden party. I had a lovely time drinking tea and walking around the palace garden.'
(c) Main Photo: Samson Rattigan and his Mother Michelle Gavin outside Buckingham Palace.
---