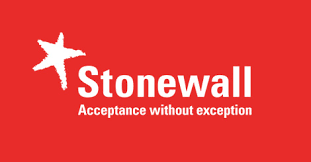 Stonewall campaigns for the equality of lesbian, gay, bisexual and trans people across Britain.
Stonewall offers support to young people 'Coming out'.
This means telling someone something about yourself that isn't immediately obvious. In relation to sexual orientation and gender identity, this means sharing with others that you are lesbian, gay, bi or trans. The process of coming out can be very different for everyone and it can take some time to get to a point where you feel comfortable and confident enough to have those conversations with people.
Find lots of useful advice and information to support you at https://www.stonewall.org.uk/help-advice/coming-out/coming-out-young-person 
You can also find local LGBT youth groups and other useful contacts through Stonewall's online database What's In My Area.
For further information you can fill out our enquiry form, call Stonewall's Information Service on 08000 502020, tweet to @StonewallUKInfo or email info@stonewall.org.uk