'Travelling Under the Stars' and beyond with Gypsy girl Lillymarie Williams
7 January 2016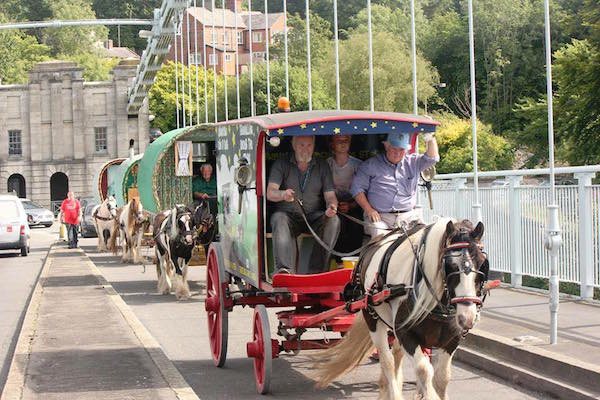 David Williams (driving Mr Jack) Lilly Marie Williams and Esmor Davies crossing the old bridge across the Menai Straits during 'Travelling Under the Stars'
A 14 year old Romany Gypsy girl, Lillymarie Williams from Anglesey, Wales, has just won two awards for helping to raise thousands of pounds for 'Travelling under the Stars' - a charity fundraiser initiative for people with cancer – and is planning to do more next year in remembrance of her young friend.
 Lillymarie spent last summer travelling around Wales in a traditional Gypsy wagon with Esmor Davies, her Grandad and the rest of the 'Travelling Under the Stars' team. Lead by "madcap fundraiser" Esmor Davies – a civil engineer who once drove a JCB from John O'Groats to Lands' End to raise money for the blind - the team completed a 200 mile route through North and mid Wales over an 8 week period with six Gypsy caravans and 10 horses. Lillymarie helped the team collect donations as they travelled, and the team raised twelve thousand pounds to help fundraise for a Cancer charities and hospices.
"It was a wonderful experience", says Esmor Davies. "We had Ray Wardle – who brought his carriages and horses who is 83 – he knows everything there is to know about pulling carriages with horses - and he was the oldest, then we had Jack Evans a well-known 78 year old Gypsy man from Chester and then we had Lillymarie Williams, the youngest."
"Lillymarie is a lovely lady and she will have a long career with horses. She will go far in life."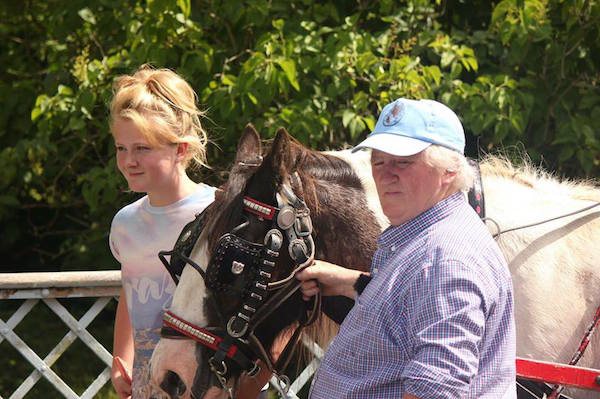 Lillymarie; Mr Jack and Esmor Davies
Sadly, Lillymarie recently lost one of her friends; Courtney Rose Jones, who passed away due to a brain tumour, and is now inspired to do another fundraising event in her memory. So this summer, Lillymarie will once again be taking Mr Jack – her cob - out on the road pulling the family's bow-top wagon, which her Grandad, David Williams, is currently restoring in preparation. This time, the Williams will be completing a two week trip around Anglesey.
"Courtney Rose Jones was my best friend," says Lillymarie.
'Travelling Under the Stars' was not the only charity event Lillymarie took part in last year. Earlier in the summer, Lillymarie and Grandad David Williams, drove the families exercise cart a total of 16 miles, starting at Carmarthen Castle, to complete the famous Anglesey 'two bridge challenge'. This event raised £670 which was donated to the restoration of a local play area for children.
Mr Jack is also a talented jumper, and Lillymarie can often be seen practising her show jumping on him.
Lillymarie received the two awards just before Christmas for her achievements at a presentation evening in Anglesey. Both award certificates were presented by Esmor Davies, organiser of 'Travelling Under the Stars', one award for participating in the fundraiser, and the other from her school – Ysgol David Hughes - for her work in the local community.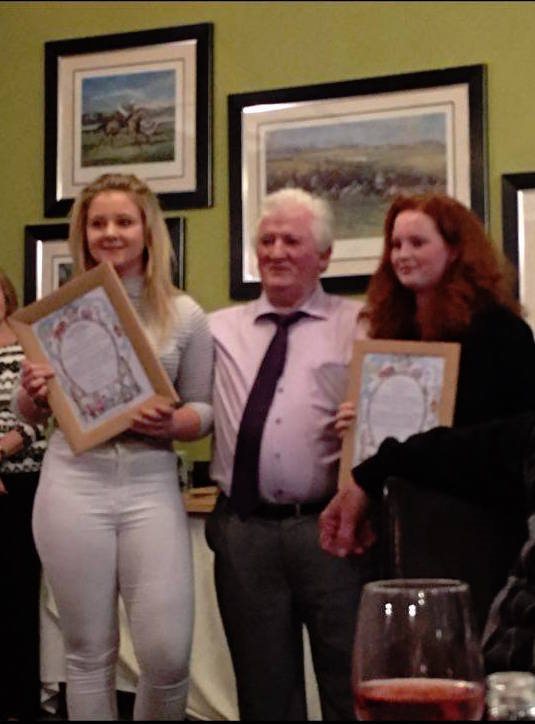 Lillymarie Williams and Neave Ellen Griffith Harrison receives their awards for their community work from Esmor Davies.
On top of this, Lillymarie – who is of the Romany Lovell's bloodline  - also wants to complete the 'two bridge challenge' again this year, but this time will be raising money for a local junior football team. She was first introduced to ponies at 18 months old, wants to be a farrier when she grows up, and is already skilled enough to take off Mr Jack's shoes. But first, she says, she is keen to finish her school education.
"I am doing well at school," says Lillymarie. "But I have always had an interest in horses, in fact I love horses - I come from a Traveller family after all – and I want to train to be a farrier when I leave school."
"The wages are good as well," she adds.
"She is a wonderful girl," says her proud Grandad, David Williams. "No one has a bad word about her, she is always helping out in the community and is full of confidence."
---