LeedsGATE dementia conference
5 May 2016
Dementia, or memory loss, amongst Gypsy /Traveller communities was the subject of a recent LeedsGATE conference which also launched a new advice and information pack for health workers.
Dementia describes a set of symptoms that can include memory loss and difficulties with thinking, problem-solving or language. Although dementia can affect people of all ages, the risk of developing dementia increases as you get older, with the condition usually occurring in people over the age of 65.
Delegates to the conference also heard that Travellers can find it difficult to access health services. This is only partly related to their Travelling lifestyle, because settled Travellers also have difficulty registering with GPs or having their problems taken seriously.
A recent Equalities Commission report (http://travellerstimes.org.uk/Events/Dementia-amongst-Gypsies-and-Travellers--Event-.aspx) showed that the health of Travellers is poorer than that of the general population, or of non- Travellers in socially deprived areas. Much of this ill-health is of a chronic nature and many suffer from multiple health problems, exacerbated by their social conditions and ever-present racial abuse and discrimination.
Ian Sherriff, a specialist in the Social/Health/Community factors of Dementia at Plymouth University, was one of the speakers at the conference and also wrote the foreword for the resource pack.
Other speakers included Dr Mary Tilki, the resource packs academic author, and Charlotte Curran from Irish in Britain. 'Dementia in Gypsies and Travellers: A brief guide for commissioners and providers', has now been published online - http://leedsgate.co.uk/travellers-and-memory-loss
Mr Sherriff, who said he "welcomed" the publication of the new resource pack, said:
"Gypsies and Travellers have some of the poorest health in Europe and although their life expectancy is short, there is growing evidence that they experience dementia at an earlier age.
The discrimination they experience, inadequate living conditions, the Travelling lifestyle, inability to access healthcare and the lack of culturally appropriate services make life more difficult for people with dementia and those who care for them."
 Helen Jones, LeedsGATE CEO, said she was pleased with how the conference went. Talking to The Travellers' Times, she said:
 "Dementia is assumed to be a natural part of old age rather than a specific illness that is affecting people. We hope that advances in understanding and treatment of dementia will be of benefit to Gypsies and Travellers as well. It's about education in terms of raising people's awareness - that there is support and we can make sure that there is good support. It is really going to enhance the care that Gypsy Traveller people are already giving to their families."
Kim Moloney - Leeds GATE Chair and one of the co-creators of Irish in Britain's Cuimhne (memory loss) project - was also at the conference and has experienced dementia in her family – Kim had this to say:
"We started to worry about my Daddy about 20 years ago when we were roadside. Daddy was about 50 then. I think really my mother knew what was happening because she had seen it happen to [another relative]"
"I was glad I went to the training session.  Charlotte and Mary were really friendly and explained things.  After that Charlotte asked me to help her present a workshop at a conference, and Mary had the idea to write the guide," she said.
"People need to think about Gypsies and Travellers getting dementia too."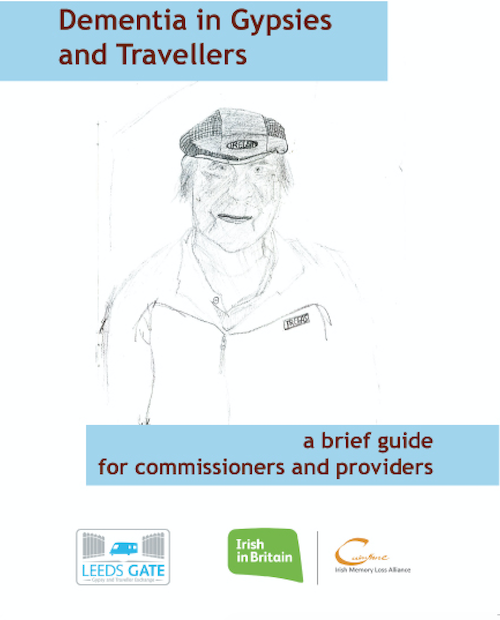 ---