Fundraiser for Macmillan Cancer Support make Ullesthorpe Gypsies and Travellers 'proud'
16 June 2016
Fundraiser for Macmillan Cancer Support make Ullesthorpe Gypsies and Travellers 'proud'
Families from a Gypsy and Traveller site in Leicestershire have joined with a local young people's charity to put on a successful Travellers' Tea event to raise money for Macmillan Cancer Support.
 The event, held at Ullesthorpe Village Hall on 27th April, was the second time that Harborough District Children and Young People's Charity (HCYC) have held a Tea Party to raise money. The first event was held in 2014 and was such a success that local families requested a repeat.
Sammy-Jo Smith (14), a local young Traveller who was there on the day, said: "It was so kind and I was so excited that the Ullesthorpe people came to try Gypsy food. I was proud that I made the 'coddle' and it was the first dish to go."
Parents and young people from the local Travellers' site, together with HCYC staff and volunteers, spent the day cooking, setting up and decorating the village hall and creating displays and activities for guests to take part in.
Mel Gould, Projects Manager at HCYC said, "It was a real cross-generational, cross-cultural team effort. I loved seeing how residents from the Travellers' site, of all ages, took their hosting responsibilities very seriously. At one point, 4 year old Annalise McCready approached the kitchen hatch with great concern, to report: 'Mummy – there are lots of people who need to sit down to eat but there is only one more seat left!'"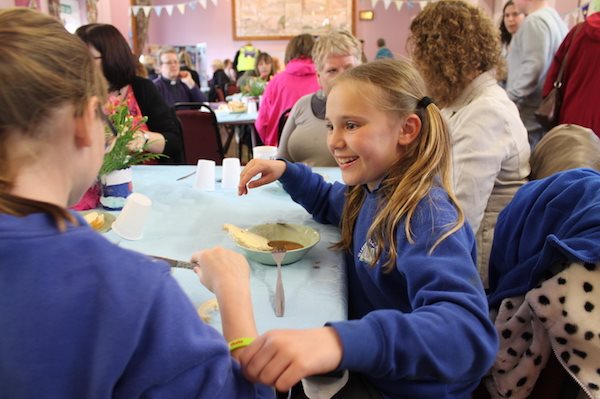 One of the key cooks at the event, Debbie McCready, said, "I think I speak for most when I say that seven years ago when we first came to the site, neither Gypsy nor the settled community could have imagined that this could happen – to see so many different people from different backgrounds, not only working together but, succeeding in working together – all thanks to Mel and her team". 
Guests included local shopkeepers, parish councillors, children, parents, governors and staff from local schools, and representatives from local services. They enjoyed a whole menu of traditional foods and were able to take a recipe book home with them. Donations totalled £119.80. The young man (14) who collected the donations, said, "I'm proud to have made £119.80 for charity".
As well as collecting donations, for Macmillan Cancer Support, the young people from HCYC's 'Travelling Forward' project sold products that they have been working on at Lutterworth College's Enterprise Centre over the past few months including hand-crafted wooden candle holders and flowers.
Following the event, many appreciative messages were received, including from Jo Atchison from The Enterprise Centre at Lutterworth College, who said: "Congratulations on a fantastic event!  It went so well and so many turned up.  The young people were great on the stall and it was lovely to see them helping and proud of what they had accomplished."
Ullesthorpe Parish Councillor, Alison Cave added, "What a lovely occasion - wonderful food and a warm and friendly atmosphere. Hopefully it will become a regular event in the Ullesthorpe community calendar."
The event was made possible by a 'Your Shire' grant from Leicestershire County Council with support from County and District council staff. HCYC's 'Travelling Forward Project' is funded by BBC Children In Need.
---