Leeds Gypsy and Traveller campaigners hone their campaigning skills in two-day workshop
14 May 2018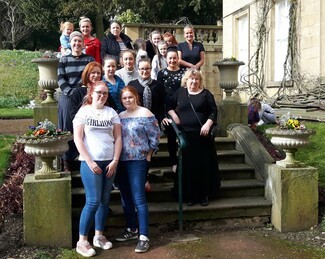 Leeds Gypsy and Traveller Exchange (Leeds GATE) recently visited the historic and beautiful Wortley Hall near Barnsley, for a two day workshop on media, campaigning and activism skills. The group talked about famous Gypsy and Travellers who inspired them and this positive vibe lead them to think about their own communities and formation of community action groups.
They worked with activism and campaigning skills charity Seeds for Change to perfecting their media skills too. These ideas and new skills will be used to create positive change. 
In the evening the group met to watch a screening of Travellers Times new film, Searching for the Travelling People, which was enjoyed by all - both young and old.
Valerie Elliot, a Leeds Traveller and Leeds GATE member said that she enjoyed the course.
"I learned how to get my point across using different types of media which has helped me with my blog," she said.
Teresa Birtle said that the course had inspired her to become more involved in activism.
"I have more ambition to be more engaged with Leeds GATE after listening to the discussions within the two days, also I would like to be more involved helping others get their points across by making a change and forming Community Action Groups."
By TT News
Read all about it!
The TT talks to Leeds GATE member Valerie Elliot about living on a 'negotiated stopping' site
---