Surge in support for Travellers as "difficult 2020" looms
8 January 2020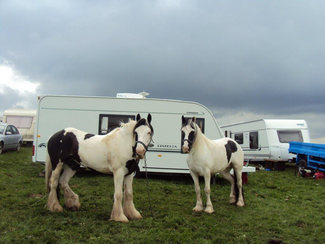 Traveller charities report a surge in messages of support as they gird themselves for a "difficult 2020" under a new Government
Gypsy, Roma and Traveller charities have reported a big increase in messages of support following Boris Johnson's shock election landslide victory just before Christmas.

Many of the people contacting the charities also pledged support in the coming fight against the consultation on new plans to either ramp up police powers to evict unauthorised Traveller camps, or to make trespass a criminal offence.
"Since the General Election, we've seen a huge surge of support from the general public, many of whom are eager to do whatever they can to prevent the Government's damaging plans against Gypsies and Travellers from going ahead," said Sarah Mann, Director of Friends, Families and Travellers.
"Thank you to everyone who has expressed support and solidarity; together we are stronger."
Helen Jones, CEO of Leeds Gypsy And Traveller Exchange, said that their Traveller members would face a difficult time in 2020 and it was "heartening" for them to have a sense that they were not alone.
"Ordinary decent people, with no direct connection to Travelling people, are letting us know that they understand the importance of Gypsy and Traveller cultures in UK history and in the present," said Helen Jones. 
We want to thank everyone who has got in touch with us and to let them know that we really need their support in the year ahead. Friends Families and Travellers has put out a really helpful guide to the consultation, we'll be sharing it like mad in the new year."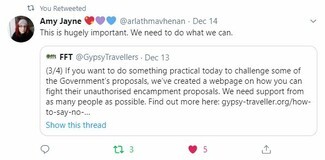 The Traveller Movement also reported a surge in support and said it would soon be hosting a "solidarity event" in response.
"We are heartened by the displays of solidarity and surge in support for Gypsy, Roma and Traveller communities," said Yvonne MacNamara CEO of the Traveller Movement.
"It just goes to show that despite the toxic political rhetoric, most ordinary people are decent and kind.
We've had offers of support from activists, campaigners, and a wide range of professionals, offering to contribute their time and expertise to support these communities.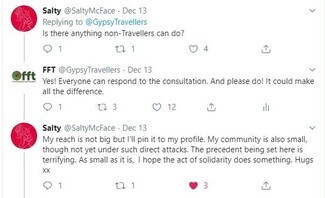 With this in mind, we are hosting a solidarity event for our new supporters in January and we are hoping to get some new people involved in our campaign. The fight to advance Gypsy, Roma and Traveller rights will be strong and will have many new supporters. If you would like to get involved, please inbox us on Twitter @GypsyTravellerM or send an email to info@travellermovement.org.uk and put GRT solidarity event in the subject line."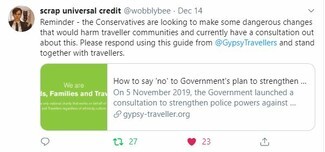 The Travellers Times can also report a big increase in readers and followers on our Twitter and Facebook platforms.
Thank you and welcome to our new readers!
TT News
(Photograph: Appleby Fair 2015 by Mum Cumbria)
---