Coronavirus crisis - Gypsy/Traveller charities call on councils to halt Traveller camp evictions
18 March 2020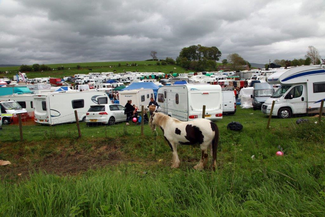 Gypsy and Traveller charities across England and Wales have come together to ask councils to call an immediate halt to all evictions of unauthorised Traveller camps.
In a letter sent to Leeds City Council and the Ministry of Housing, Communities and Local Government yesterday, Leeds Gypsy and Traveller Exchange (LeedsGATE) CEO Helen Jones calls on local authorities to suspend all evictions during the coronavirus epidemic sweeping UK.
In the letter – endorsed by other Gypsy, Roma and Traveller charities and seen by the Travellers Times – LeedsGATE asks local authorities to instead create safe havens for Gypsy and Traveller people with nowhere to go and to provide waste removal services and water as per the 'negotiated stopping' system already adopted by some forward thinking councils.
"Whilst the Corvid-19 Coronavirus is a worry for everyone Gypsy and Traveller people are known to have particular vulnerability, carrying as they do a greater and earlier burden of co-morbidities including for example COPD," says Helen Jones in the LeedsGATE letter.
"In the circumstances we face over the next few months I am calling on you to urgently consider periods of negotiated stopping to be offered to roadside families in your area, along with provision for example of water.  Beside the clear and present danger of significant illness and potentially death among these vulnerable groups, enforced movement is likely to create an additional risk of unmanaged spread of the virus.
"Whilst I understand that MHCLG have been asked to provide specific guidance on this matter I ask that you do not delay in formulating a strategic response to the vulnerability and risks faced by 'roadside' families at this time.  I hope that any authority also acting as landlord to Gypsy and Traveller sites will be considering the vulnerabilities faced by these communities in the Corvid-19 response planning"
The Derbyshire Gypsy Liaison Group has also contacted Local Authorities across the West Midlands and Derbyshire asking them to respect of the needs of Gypsy and Traveller families who may be living roadside in their area.
Herts Gypsy and Traveller Empowerment have also contacted their local councils and the charity London Gypsies and Travellers are writing to the GLA and all the London Councils.
Prime Minister Boris Johnson has already asked Councils and private landlords not to evict their settled tenants during the coronavirus crisis and the Travellers' Times understands from GRT charities that the Ministry of Housing and, Communities and Local Government is set to ask councils to also halt evictions of unauthorised Traveller camps.
In a further development, Friends Families and Travellers are producing advice for Gypsies and Travellers living in unauthorised and authorised camps and in bricks and mortar on how to protect themselves and their loved ones from the coronavirus epidemic. The Travellers' Times is also creating a video along similar lines for Gypsy, Roma and Traveller people who may have difficulty reading. The video, which will be the first part of a regular Covid vlog by TT Youth Editor Lisa Smith who is a Romany Gypsy living on private Traveller site in Gloucs, will be shared on social media. 
TT News
---