Job opportunity at the Traveller Movement - Why not apply?
15 April 2021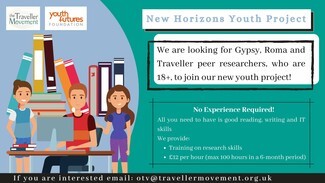 The Traveller Movement is starting an exciting new project looking at the needs of Gypsy, Roma and Traveller young people in employment and education called 'New Horizons.'
They are looking for 10 people who identify as GRT to employ as 'peer researchers' this means they will be interviewing young people in their local area about their opinions on education and employment. 
The rate of pay is £12 per hour and the roles will be 5 hours per week. The project will run from May 2021 until October 2021. They are flexible on when people want to do their hours and understand some people may not be able to work on the project for the whole 6 months. No research experience is required, just reading, writing and basic IT skills.
This is a great way to get some experience for future jobs applications. Or to just get paid to do something interesting which will help create valuable research for GRT young people.
Applicants must identify as GRT and need to be 18 years or older and since people will be working remotely anyone in the UK can apply. 
---