Media and Campaigning advice and training
2 June 2021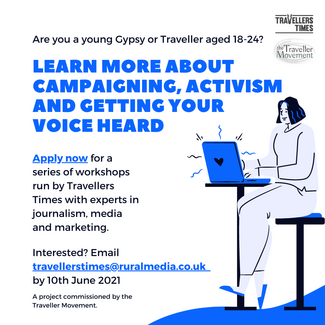 Taster Workshops: We are offering places to 6 young Gypsies and Travellers aged 18-24 who are interested in interested in learning more about creative campaigning, activism and getting their voices heard by those who need to hear it.
Email travellerstimes@ruralmedia.co.uk for more information or APPLY HERE using the workshop name 'Your Voice' 
DEADLINE TO APPLY 10th June 2021
What will it involve? 
Successful applicants will take part in 4  1.5hr interactive workshops taking place online and be offered an iPad style tablet and a wi-fi dongle to take part. We can offer you lots of help to get involved and you will get an introduction to: 
 -  Legal non-violent direct action
-   Social media and marketing your campaign creatively
-   How the media works and how to use it
-   How to present yourself online and use documentary photography and film
When will it happen? 
The dates and times you will need to be available are
-  Monday June 28th 6.00-7.30pm
-  Thursday 1st July 6.00-7.30pm
-  Monday 5th July 6.00-7.30pm
-  Wednesday 7th July 6.00-7.30pm (online or potentially in person)
If you are interested these workshops will also help you to take part in Drive to Survive and help challenge the anti-trespass bill https://www.travellerstimes.org.uk/news/2021/06/drive-survive-say-gypsy-and-traveller-campaigners-and-fight-anti-traveller-laws  should you want to.  
These workshops have been commissioned and supported by Traveller Movement and will be run by Travellers Times, Rural Media and Jake Bowers 
---