Priti Patel told to 'chum mandys bull' by Romany Gypsy campaigners
28 June 2021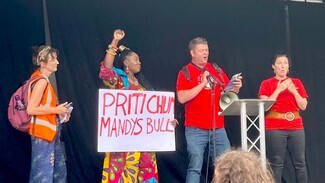 Romany Gypsy campaigners at the People's March in London yesterday, led a "ten thousand strong" crowd in a chant in the Romany language to challenge the Government's new laws that threaten to destroy the Travelling way of life.
Standing on the stage at the anti-austerity and anti-racism rally, Drive2Survive Co-Chair Jake Bowers encouraged the crowd at the rally to chant 'Priti chum mandy's bull', which translates in English as 'Priti kiss my a***'. The chant was also translated into sign language by a British Sign Language interpreter.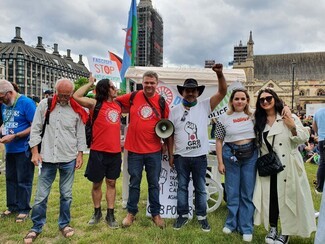 The Drive2Survive campaigners, are building up to a 'summer of discontent' and a 'kick-off' rally on July 7th at 1pm in Parliament Square, London to protest against the Police, Crime, Sentencing and Courts bill which also threatens the right to peaceful protest. Campaigners say that all are invited to the initial rally to show their support – but that protestors should respect that this is a peaceful event with Gypsy, Traveller and Roma families and children coming.
The campaigners are challenging the new laws that will make 'trespass with vehicles with the intent to reside' a criminal offence. Gypsies and Travellers could have their homes and other vehicles seized, get three months in prison and a £2,500 fine for trying to follow their traditional nomadic way of life. The new laws, which are currently going through Parliament, where in the Government's 2019 election manifesto and are being masterminded by the controversial Home Secretary Priti Patel.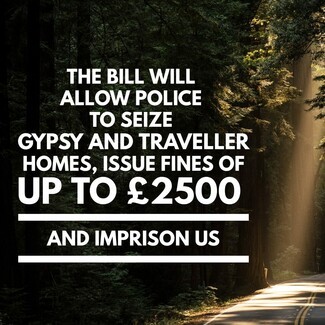 The new laws have already sparked off protests and rallies across England by people concerned about losing the right to protest peacefully, and the Drive2Survive campaigners are working hard to get the same support for the parts of the new law that targets Travellers.
Drive 2 Survive co-chair Sherrie Smith said: "The Police Bill is the single biggest threat to the traditional way of life of Romany Gypsies and Irish Travellers in our life time.  If passed it will entirely eradicate nomadic life in the UK, give police the power to seize Gypsy and Traveller homes, fine Gypsies and Travellers up to £2500 and imprison those needing to follow a nomadic way of life because of a lack of safe legal stopping places.  This would not be tolerated by any other ethnic group and we will not stand for our culture being targeted in this way."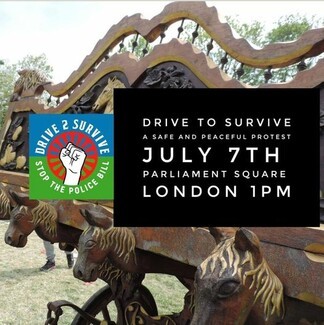 The Government say that the new offence of criminal trespass will target:
A person aged 18 or over resides or intends to reside on land without consent of the occupier of the land;
They have, or intend to have, at least one vehicle with them on the land;
They have caused or are likely to cause significant damage, disruption or distress;
They, without reasonable excuse:

Fail to leave the land and remove their property following a request to do so by an occupier of the land, their representative or a constable; or
Enter or, having left, re-enter the land with an intention of residing there without the consent of the occupier of the land, and with an intention to have at least one vehicle with them, within 12 months of a request to leave and remove their property from an occupier of the land, their representative or a constable.

Reasonable suspicion that a person has committed this offence confers power on a constable to seize their vehicle/other property for up to three months from the date of seizure or, if criminal proceedings are commenced, until the conclusion of those proceedings.
The new law will affect England and Wales - but not Scotland.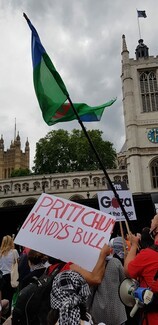 Mike Doherty/TT News
(Main photo: Jake Bowers leads the chant of 'Priti chum mandys bull' © Antonia)
---