Traveller Pride to meet in London
15 June 2021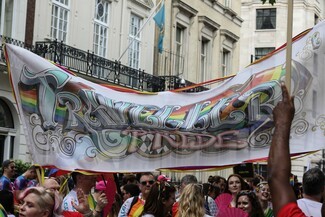 Traveller Pride are hosting their first in-person event since the pandemic hit as part of a wave of celebrations. The event in South London on June 26th comes during Pride Month and Gypsy Roma Traveller History Month and is also to celebrate Traveller Pride formally becoming a legal entity.
"We're really proud of everything we have done since we launched in 2019, but with this new official status we will be able to do much more," said Tyler Hatwell, the group's founder. "Today is a great chance to celebrate and to help build the connections we started at Pride 2019. We're celebrating where we have been and are getting ideas of what we should do next."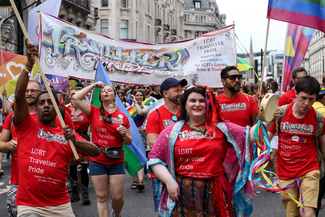 The event comes after a big year for Traveller Pride where, in response to the pandemic, they launched free therapy for LGBT+ Travellers, launched a solidarity fund and developed a phone line as well as hosting online spaces for LGBT+ Travellers to connect and support one another. They also held a Christmas Card campaign where community members could request an individualised Christmas card to help everyone feel included during the festive period.
"It's been a great year and we want to celebrate as well as to hear from people what they want from us. We're relaunching the phoneline in a bigger and better way and discussing any other plans and giving people a way to get more involved," continued Tyler.
The meetup will take place in South London, between New Cross and Peckham and Traveller Pride have some funds to help people make the journey more accessible. Contact Traveller Pride to get more details and to receive the address.
To get in touch with Traveller LGBT Pride and find out more email travellerlgbtpride@gmail.com or go to www.lgbttravellerpride.com
TT News/Traveller Pride press release
(Photograph by Joseph Mitchell wwww.josephmitchell.org )
---