Do you need help homeschooling your kids during school closures?
4 May 2020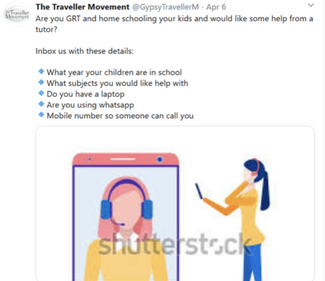 Traveller Movement &  RomBelong (Kings College London) have launched a 'Tutors for GRT' initiative that seeks to provide free tutors for families who might be struggling to home school their children during Covid-19 school closures.
They have DBS checked tutors who are on hand to offer free tutoring and are currently open for referrals, so if you or any families you know would like to access this program you can simply call/text this mobile number 07527486856. Alternatively, the Traveller Movement can also be inboxed on their Facebook, Twitter or Instagram accounts. 
When you make contact please provide them with the following details:
📚 What year your child is in school
📚 What subjects you would like help with
📚If you have a laptop or not 
📚 If you are using Whatsapp and contact number they can get back to you on. 
---