Paris Owen supporting her sister and the NHS
30 April 2020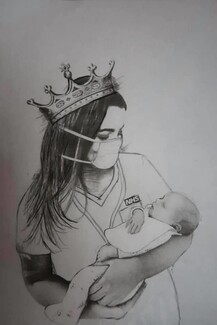 My name is Paris Owen and I made this film for my sister, Jasmin and here is the reasons why.
I am a Traveller from Lancaster, my sisters and I have been brought up well and my Mam wanted a better life for us so she sent us to school.
We have had a very hard time trying to fit in with both communities, Travellers and Gorjas as both look at us different but I am so proud as we took the best from both communities.
I was so disappointed to see the Channel 4 TV show as I have had the chance to experience so much of both lives and the media never reflect us for who we actually are.
We try to make a difference and my younger sister went to University and became a children's nurse – she is 'one of those Travellers' but is fighting on the front line - head on with this battle.
I've seen first-hand the pain my sister is going through working on the front line at the hospital it breaks my heart to see the whole world on the shoulders of someone so I have been doing a lot of things to try help
I also went to University and studied fashion design and worked for a well known company designing clothes but I also have underlying health conditions and at the start of this pandemic I was told by my doctor I shouldn't go out. This made me really sad as I love to help other people and felt so bad being stuck at home and not being able to play my part so I tried to think of some way I could help.
I started to see that the nurses and doctors wasn't getting treated and respected the way they should I saw how upset my sister was with how much stress she had on her shoulder and that when she needed to eat at work she never had the time to as they was so rushed off their feet and when they finished their shift there was no food left in store for them, so I thought maybe we can get food to them at work.
So I went through all the takeaways and restaurants that were delivering in the local area of my home town and messaged them to see if they could help out and if they would be able to deliver some food to the hospital for the staff in return to, to help promote their business I offered to post there gifts of kindness on Facebook to give them free advertising which I did by starting a Facebook group and posting acts of kindness to spread some positivity. After one takeaway offered to help more offers kept flooding in and it seemed the spirit was spreading and more people was doing acts of kindness the staff at the hospital was so thankful not just for the food but just to be thought of.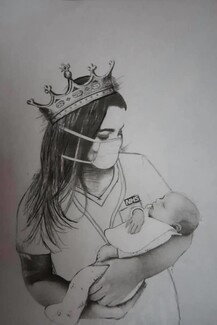 I also did some special things for my sister put a smile back on her face so I created a video with many of her friends and family saying a little thank you message to her I even got some of her favourite celebrity's to take part I did this by messaging every one she followed in Instagram and the amount of responses I got back was amazing …..
I made piece of art work which I have only just been able to present to my sister, and I would like to donate a large copy of it to the Royal Free Hospital as that's my hospital and hospital my sister trained at" 
Not a dry eye in the TT team reading this one …Mam must be very proud indeed.
Well done Paris and HUGE thanks to Jasmin from all at the TT Team
---