'Gypsy Kids: Our Secret World' series 2 starts tonight on Channel 5
31 August 2017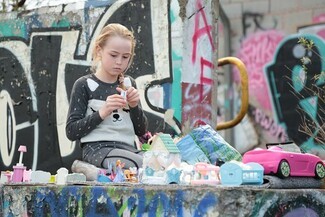 A popular TV series featuring Gypsy and Traveller children from across the UK will be starting its second series tonight, on 31st August 9pm, on Channel 5.
Knickerbocker Glory, the TV production company that made the series, says that: With extraordinary and privileged access to Traveller and Gypsy children, this series offers a revealing portrait of what life is really like for one of the most marginalised and private communities in Britain.  Whether they are fighting to keep their traditions alive or facing dramatic altercations with bailiffs and police; these children demonstrate an understanding beyond their years.
Episode one promises to raise some serious issues, including following the fortunes of a Traveller family living 'roadside' in the Birmingham area as they get evicted from unauthorised camps by bailiffs, the council and the police - with nowhere else to go.
"All we want is somewhere to stay" says nine year old Irish Traveller Margaret.
Meanwhile nine year old Indianna is moving out of her trailer and into a chalet on her family's site.  For the first time she will be able to use the bathroom inside her home and sleep in her own bed.
And 14 year old Jamsey is dreaming of a place to call home.  He's living on a piece of land that was previously a dumping ground.  Jamsey and his family have cleaned it up but if the council evict them from here, they will have nowhere else to go.
The first series reached one million viewers.
The Travellers' Times is aware that many Gypsy and Traveller families who have had their stories published in the Travellers' Times Online, or in our twice yearly free magazine, have been approached by Knickerbocker Glory and asked to appear in 'Gypsy Kids: Our Secret World'.
The Travellers' Times was also shown a preview of the first episode of series 2 – as were all the national press - and notes that the very negative and sensational way that some newspapers have represented the show and the children in it does not resemble the actual TV show itself.
But never mind what the TT thinks about 'Gypsy Kids: Our Secret World' – or some of the racist tabloids – what do you think?
Please let the TT know by emailing travellerstimes@ruralmedia.co.uk or logging onto our Facebook page and leaving a comment or sending a private message.
---