Exclusive TT interview with the Traveller man who started the food bank challenge sweeping the UK
29 November 2018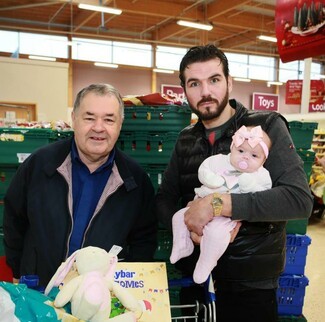 Traveller man and new father Watson Harrop, 30, of Bishops Auckland, County Durham, decided to take action after noticing families in his local area struggling.
While out shopping for his three-month-old daughter at his local Tesco last Thursday, he spontaneously decided to fill a trolley full of food to donate to the store's foodbank. 
Taking his act of charity one step further, he videoed himself  donating the food, posted the video on Facebook and nominated friends and family to take part in #FoodbankNomination within 48 hours.
The video has since gone viral, with over 58,000 views. A professional harness racer, Mr Harrop also nominated a fellow racer in America, who took on the challenge which led to the phenomenon spreading from the US to Canada, Australia, Scandinavia, New Zealand and beyond. 
Mr Harrop said: "The harness racing community have helped #FoodbankNomination spread worldwide".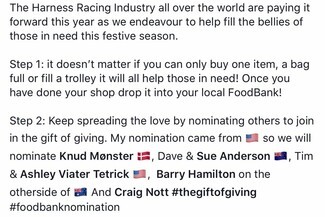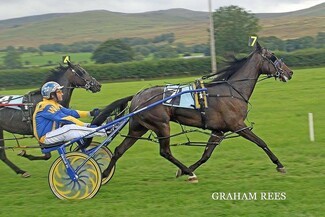 At the same time, foodbanks have been filling up across the UK. "Kingsway church foodbank normally struggles week to week, but due to the foodbank nominations they have a store of food to last until June," says Mr Harrop. 
"In my local town alone the Tesco has had over six tonnes of food donated in just one week - that's enough to make 8,000 meals. It's overwhelming how many people have helped and donated. It's caused an avalanche of different communities coming together. It doesn't matter if you're Traveller, Pakistani, black, white .… I decided we're going to come together and make a difference for people who are less fortunate than us over the Christmas period."
 
This couldn't have come at a better time, with foodbanks across the country bracing for the busiest Christmas on record as benefit cuts plunge thousands into poverty.
Mr Harrop adds: "You don't realise until you have your own children just how less fortunate other children are out there. Me and my wife always donate to the foodbank in our local supermarket but noticed that it never seemed to get any fuller. You could walk past and what we had donated last week would still be in the bottom. The cat and dog donation bin was always full to the brim, but no one was donating for kids who are going to bed hungry with no tea across the country. I wanted to encourage people to donate to their local foodbanks."
Across the UK, foodbank after foodbank has been posting thanks to the Traveller community. Some have been so inundated with donations that they've run out of storage space so have stopped asking for food and are now asking for money.
In County Durham some foodbanks are so full that they've have been distributing donations to other local foodbanks. Members of Darlington Light and Life Church have even been distributing a van load of donated food to homeless people on the streets of Middlesbrough.
Mr Harrop, his cousin John Boy Harrop, and countless others have been helping to distribute large quantities of food to other foodbanks, including St Augustine's and St Mary's churches in the Darlington area.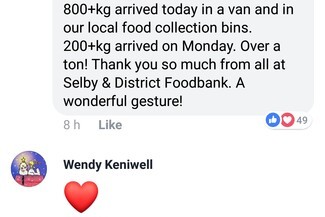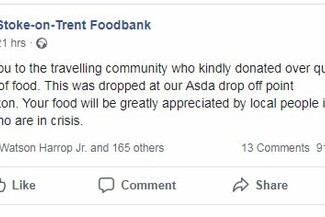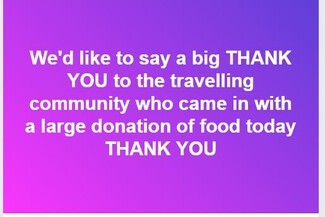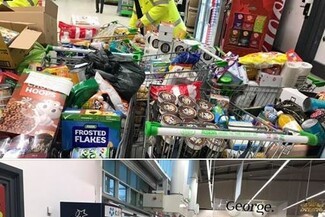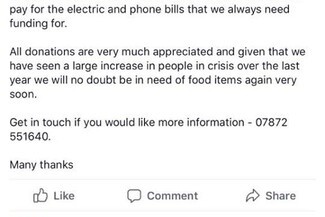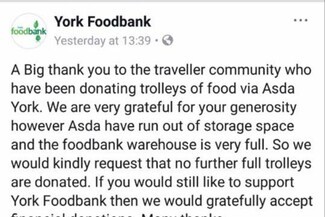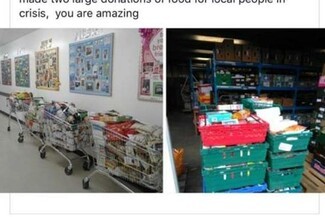 Mr Harrop is a well-known personality in the Traveller community and trap industry so had hoped that the #FoodbankNomination would take off among his friends and colleagues in harness racing, his family and his local Traveller community – but he didn't expect it to be this successful.  "I expected it to take off and make a little difference in my area and help some families but I never expected it to go this big and make a difference in the way that it has," he says.
Mr Harrop expressed huge thanks to everyone who has shown their support and donated, particularly local businesses such as Probio Energy International, who encouraged their entire staff to donate under #FoodbankNomination, and Cleveland Cars in Middlesbrough, who pledged to donate five pounds of food for every car they sell during December.
You don't have to wait to be nominated to take part in the challenge - simply make a video of you with your donation then nominate friends to do the same, using the hashtag #FoodbankNomination.
Lisa Smith/TT News 
Main photo: Courtesy of Mr Harrop (c) Sarah Caldecott 
---