Donate to help young people attend commemoration ceremony to mark the 75th anniversary of the Roma holocaust
30 May 2019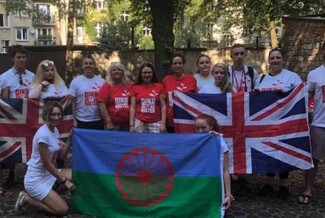 GATEHerts are calling for people to donate to their go fund me page to raise funds to help take young people to a commemoration ceremony to mark the 75th anniversary of the Roma holocaust
For three years running GATEHerts has taken a group of young people to Poland to join 300 young Roma and non-Roma from across the world to learn about the Roma genocide and mechanism of antigypsyism. There was representation from 27 countries last  year including the USA, Spain, Ireland , Finland and  Holland. They are hoping to go again this year but need your help to make sure young people from the UK  can get there to mark the 75th Anniversary of the Roma genocide. 
Please donate what you can for this important project...writes Sherrie Smith from GATEHerts Every summer we take young people to Auschwitz, this year will be the 75th anniversary. We have most of it covered  but we really need your help, every £  will count. We only need £100 per person to cover flights
  We have written to MPs, lords, charities and Gypsy celebrities but have had no response yet. Please donate what you can and take a listen to this podcast   to hear why it's important we take these young people to Poland to learn about our history. Any ideas on how to raise the money please post on here. Xx Thanku
Sherrie and Josie at GATEHerts.

You can read about last years event here and donate to the go fund me page here. 
To learn more about this event or to participate please contact sherrie.gateherts@gmail.com 
---