Ask Abi – Schools and Gypsy Roma Traveller History Month
7 March 2018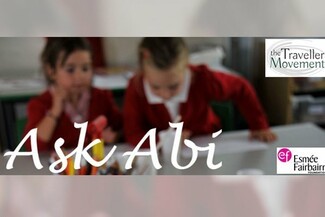 In this month's column a reader asks the Traveller Movement's education advice worker about what she can do to make sure her children's school celebrates Gypsy, Roma, Traveller History Month in June.
Hi! My name is Abi and I run the education support project at The Traveller Movement. I've been with the Traveller Movement since the beginning of 2015, my job is to advise and support families with any issues they might be facing in schools or education. When I'm not trying to make sure all young people are getting the support they need to learn, I can usually be found baking cakes or buying more lipstick!
Q.             Hi,
My children go to school and they are always learning about other cultures and ethnicities but the school doesn't teach anything around our Traveller Roma Gypsy culture. I heard there's something called Gypsy Traveller and Roma history month, is this something that is compulsory to be taught in school? Because I really want them to feel their culture is celebrated like other pupils there. What can I do to make their school aware of this?
A. Hello,
June is Gypsy Roma Traveller History Month (GRTHM) and it's a great chance for schools to teach pupils about the histories and cultures of Gypsies, Travellers and Roma! However, it's not compulsory for schools to celebrate and not all schools are even aware that it exists.
It would be great if you can talk to your children's school about Gypsy Roma Traveller History Month. What is your relationship with the head teacher like? If you feel that they are approachable then it might be worth having a chat with them? You can explain that you would love to see your family's community represented within the school, maybe you could offer to tell them a little about your family's culture? I'm sure if you explain it to the school in the same way that you explained it in your letter then they will understand why celebrating GRTHM is important. If you're not comfortable speaking to the head teacher then a letter from you might be a good way to raise it with the school? You could even print this article and show them!
At the Traveller Movement we're in the process of collecting together lots of lovely resources to teach GRTHM, we'll publish the full list closer to the summer.
For now, here's a few websites and organisations that have some great resources and ideas that you could share with your school:
NATT+ http://www.natt.org.uk/
London GRTHM http://www.grthmlondon.org.uk/
Brighton and Hove Healthy Schools Team http://www.school-portal.co.uk/GroupDownloadFile.asp?ResourceId=2774531
Amnesty International https://www.amnesty.org.uk/resources/lesson-plans-travellers-rights#.WKMjhW_yjcs
Open Society Foundations https://www.opensocietyfoundations.org/voices/gypsies-roma-travellers-animated-history
Tower Hamlets Schools Libraries http://www.towerhamlets-sls.org.uk/grt-history-month/
Good luck and let us know how the conversation with the head teacher goes- it would be brilliant to hear if your school do celebrate GRT History Month this June!
Tip of the month: If you were spoilt for Valentine's day and are still surrounded by leftover chocolate, rocky road is a delicious way to use up sweets! Melt some decent plain milk or dark chocolate with some butter, mix with broken digestive biscuits, marshmallows and whatever chocolates you're trying to get rid of. Pour it into a big dish, let it cool in the fridge and you're done!
If you have a question that you would like answered and don't mind it being published on the Travellers Times website then email me and I'll try my best to answer. If it's a more complicated problem or you fancy talking it over on the phone then give me a call on 0207 607 2002. I'll reply to all your questions and do my best to help you fix your school problems.
Please do also get in touch if you have a tip that could be the next tip of the month- although I'm always excited to hear about a new product it would be great to get non make-up related tips too!
Read our previous 'Ask Abi' columns by following these links:
http://travellerstimes.org.uk/Blogs--Features/Ask-Abi--Back-to-school.aspx
http://travellerstimes.org.uk/Blogs--Features/Ask-Abi--Our-regular-education-advice-column-.aspx
http://travellerstimes.org.uk/Blogs--Features/Ask-Abi--My-child-is-getting-bullied-.aspx
---