Billy Welch at Appleby
1 February 2018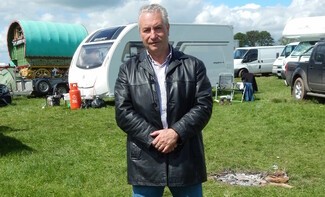 "Appleby to the Gypsies and Travellers is unique and it is our Mecca," says Billy Welch, the Shera Rom – or 'Head Gypsy' – who has been central to the organisation of the Cumbrian Appleby Horse Fair for decades.
The Travellers' Times caught up with Billy Welch on Fair Hill, one part of the massive Appleby camping ground, on the Friday of Appleby 2017 last June. He is sitting on a camp chair outside his trailer, tucked away behind one of the main gates that will become choc-a-bloc with traffic the next day.
we come to this ground, and we sit around campfires, it gives us a sense of place
"This is the most important event on planet earth in the Gypsy and Traveller calendar," says Billy Welch. "The reason being that everywhere we go in the world, we are never really made welcome. Even in Darlington, where we have lived for 200 years, we still get people saying to us 'why don't you lot go back to where you come from?' So we never really feel like we belong, but when we come to this ground, and we sit around campfires, it gives us a sense of place, a sense of belonging, a sense of ancestry. We really feel like, for once a year, we have arrived home. We want to preserve our traditions and our culture for future generations and coming here reminds us of that," says Billy Welch. "Eighty per cent of our people live in houses now, and they have got businesses and they do not do a lot of travelling, so it gets the young'uns back and it refreshes the minds. It's where the young ladies meet their future husbands and the young men do their courting. It's not just about the horses, there are lots of other little traditions connected to Appleby. And it's important that the children know and understand it. At the end of the day it's their heritage and their culture."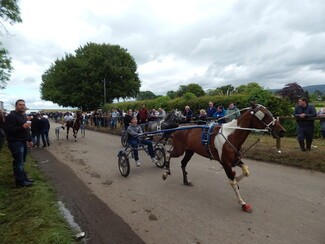 Billy Welch gestures for me to look behind him. Fair Hill undulates away from us, lined with its ruts and tracks and dotted with its colourful cars, caravans, vardos, tethered horses, vans and trucks, and the land dips into a valley and then abruptly rises into the slate grey/green Cumbrian fells and crags in the distance. Overhead a grey cloud-drenched sky scuds over the hill and away towards the peaks.
My ancestors have been coming here for centuries
 "Just look around you – it's God's country," says Billy Welch. "It's beautiful. It's breath-taking and it's hard to explain. You have got to come here and witness it for yourselves." To Billy Welch, Appleby is not only sacred, running it is an obligation to his people and a promise to his father. "My ancestors have been coming here for centuries and we have always been – unofficially – the guardians of the fair," says Billy Welch. "In the eighties it grew into such a huge event, such a volume of people flowing into the town, it needed more organisation. So my father got involved more – as a Shera Rom – with the fair, and more involved with the council and the police, and they started to coordinate it a bit more. When he died I inherited that responsibility. He raised me to do it. Even on his deathbed he said promise me you will look after the fair."
As long as there is a planet earth, Appleby Fair will exist
 "I said there are a few things, Dad, I am going to do different. He said you run it how you want to do it but promise me you will look after it and preserve it for future generations and that's what I am doing. So I am going to take the good with the bad and I can't walk away from it, it's a promise I made with my father and an obligation to my people. "If things are not perfect, as I have got older, I have learnt things are never perfect," he says. Billy Welch does not look like he is shouldering any burden today. In fact he looks relaxed and at home. I ask him how long he thinks Appleby Fair will continue. "As long as there is a planet earth," says Billy Welch, "Appleby Fair will exist."
By Mike Doherty
---