Feeling accepted and not being judged just for being me was a revelation
22 October 2021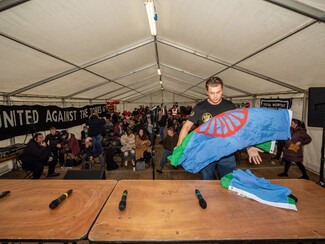 Bela Varadi, a Hungarian Roma journalist and photographer now living in the UK, went along to the recent GRT led Drive 2 Survive rally, part of a larger anti-racism rally in Manchester, to record the protest against the Government's proposed anti-Traveller laws. Bela Varadi. In his own words and images:
Manchester. October 2nd - 3rd, 2021
I travelled to the Manchester Rally of the Drive2Survive campaign with doubts. I was conscientious that not many members of the GRT community could afford to travel just for attending a protest. I was also worried about the reception of the crowd: How would other organisations and groups act when marching alongside Roma, Gypsy and Traveller protesters?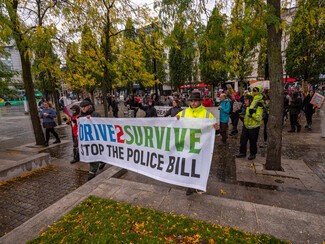 Nevertheless, it was saddening to go to another protest where we need to fight again for our rights to continue having our ways of life.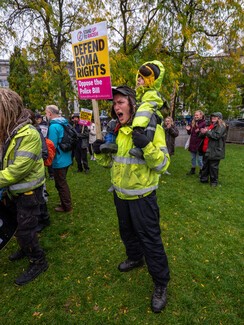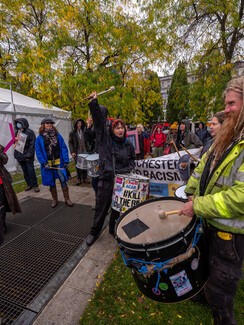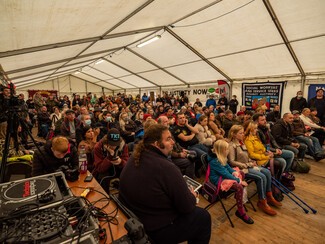 It was reassuring to see that - despite all the difficulties - many people came and expressed their anger about the discriminatory bill.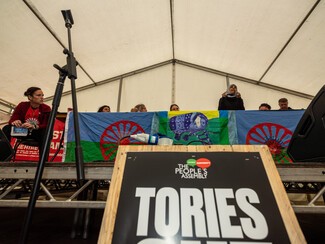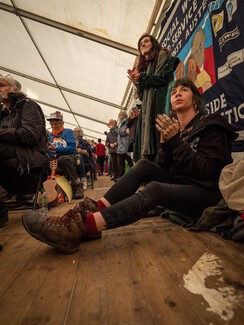 Hearing from all the different GRT speakers, I was amazed by the determination for equality and human rights. Halfway through the two days long event, I realised that this was the first time since immigrating to the UK ten years ago that I had been around a majority GRT group. Feeling accepted and not being judged just for being me was a revelation.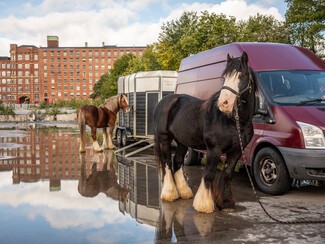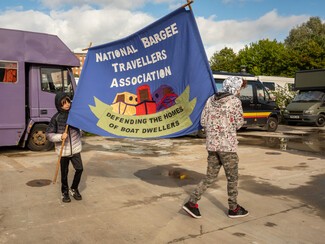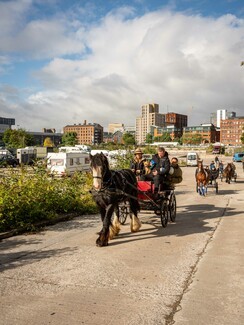 It is astonishing that in a country so proud of its democratic traditions, it could be made unlawful for some of its citizens to continue the lifestyle they had been living for centuries. If the proposed bill achieves its aim and restricts Traveller communities to move freely, it could threaten important elements of our culture such as caring for our horses.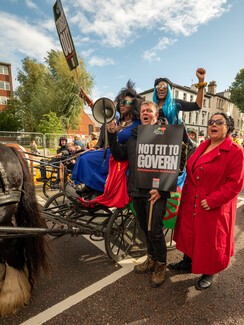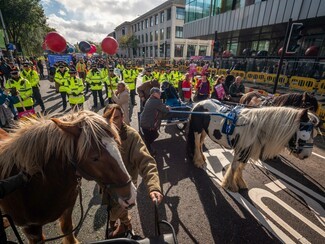 Having come from Eastern Europe, I was surprised to see how welcoming the crowd of the Manchester rally was. I have so used to have the ignorance from the majority population towards Roma and Gypsy people. Seeing a cheering crowd, even in the traditionally left-wing Manchester, gave me hope.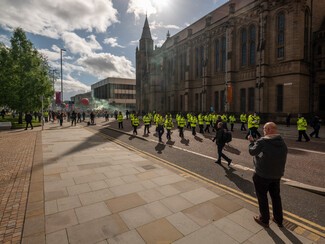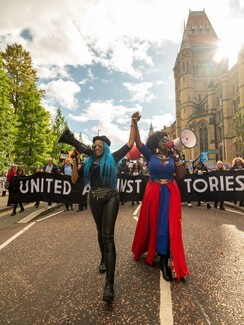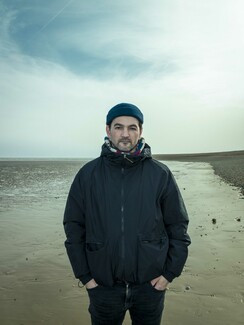 Bela Varadi. A short bio: 
For decades I have been trying to integrate my two main interests; creating visual art and represent the life and interest of Roma people. As a young adult, I worked as a local councillor and I also spent time painting pictures. Starting a career in journalism helped me to find an accommodating platform for my passion for visual and social representation. I was one of the founding members of Europe's first Roma radio, RadioC. After working for various radio stations and online newspapers, I started working for television as a news reporter and broadcaster. Alongside my journalist job, I have created a documentary mini-series which won the grand prize at the Faces of Poverty Film Festival in 2010.

As the far-right Orban government started its crackdown on the public broadcaster in Hungary, it became increasingly hard to maintain my editorial freedom. I resigned in 2011 and moved to the UK. Starting life in a new country forced me to reconsider how I could create socially conscious visual art. I started educating myself in photography and after years of experimenting, I secured freelance positions in photo studios in London. In my free time, I could return to create photo-documentary series. I started various projects about immigration, Roma journalism, and minority representations. My recent work about a Black Lives Matter protest in London was nominated in the professional photojournalism category at the Fine Art Photography Award 2021 and has been published in various magazines.
Bela Varadi
(All pictures and words (c) Bela Varadi)
 
---