Lena's 10k for 10 days raises over £1,568 for cancer research
19 May 2020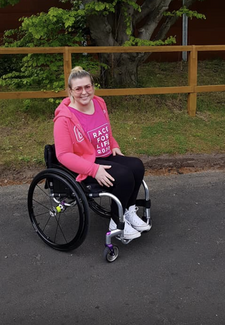 TT caught up with Lena McAllister a cancer survivor from Carlisle who is on day 9 out of 10 of her 10K for 10 days challenge to raise money for Cancer Research UK. 
By the end of the 10 days, Lena McAllister will have pushed her wheelchair 100km as part of the race for life at home challenge to raise money for Cancer Research UK. Lena was diagnosed with breast cancer in March 2018 and this will also mark one year since she's been in remission. 
With Cancer Research UK's fundraisers on hold, including the annual nationwide Race for Life events the 29-year-old is encouraging others to still find a way to raise much-needed money for research. 
"I saw the race for life and I was going to do 5k, but that wouldn't be a challenge to me so I wanted to do 10k. Its day 9 of the challenge but for me its day 18 of training and building overall stamina and fitness since my treatment".
Lena received chemotherapy, radiotherapy, and the drug Herceptin, which Cancer Research UK scientist helped to discover to support her recovery. However, this wasn't the first time that Lena faced a life-changing battle, a few years previously she was involved in a car accident on the motorway that left her paralysed.
"If I was living my life before the accident I would be out helping during the coronavirus but because I'm in the position I'm in now I just felt like I needed to do something to help out and support"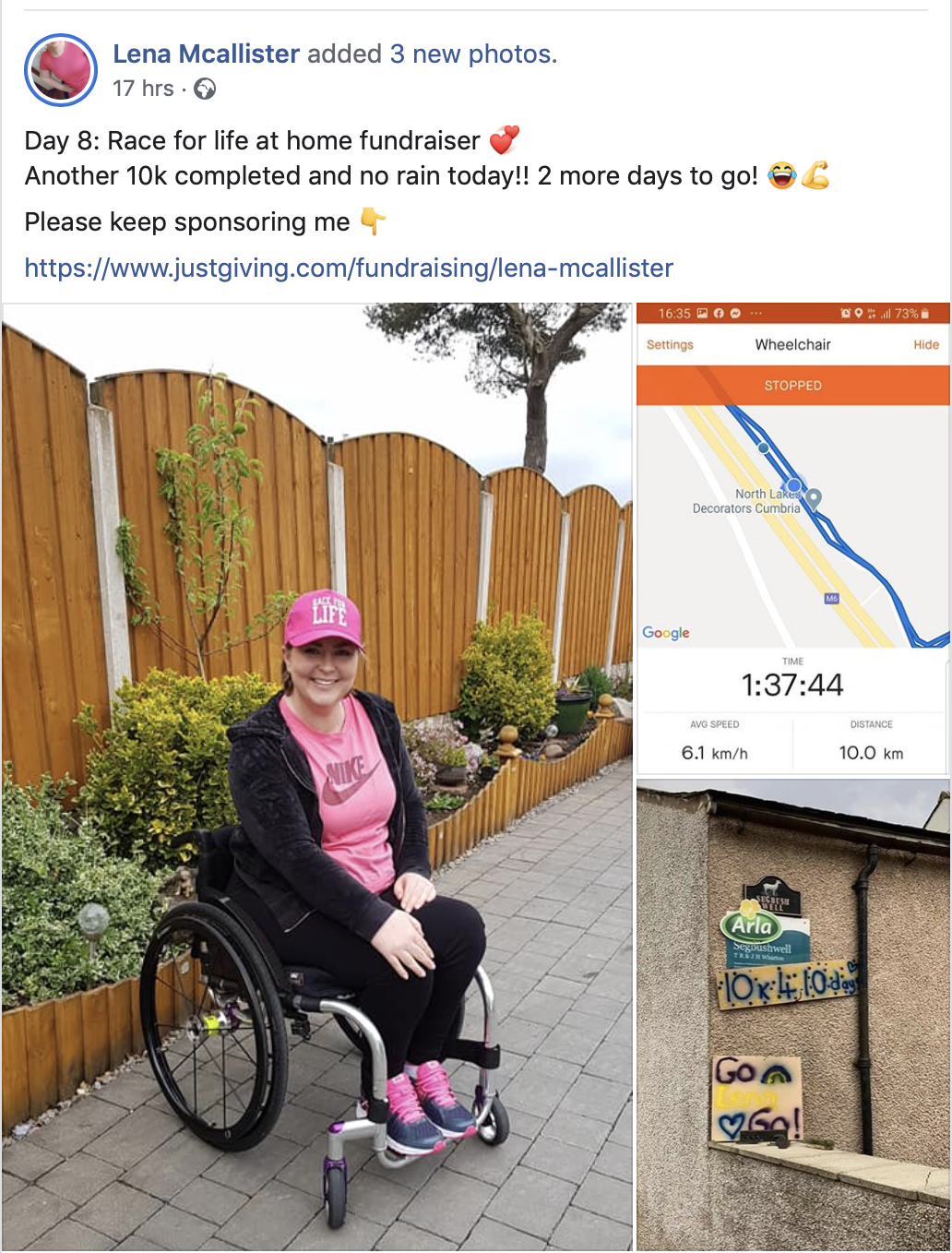 Lena set out to raise a modest  £500 but has to date raised £1,595. There is still time to show your support and sponsor life - saving research by donating to Lena via her fundraising page here: https://www.justgiving.com/fundraising/lena-mcallister
Lena says she is completing the challenge in memory of those who have died from cancer, like her friend's little boy 'Baby Joseph'  who was diagnosed at 3 months old and those who are still fighting. 
"I was only 27 when I got diagnosed with breast cancer, young people don't expect to get it. It was such a shock but it goes to show that you can't put an age limit on cancer it can touch anyone at any point of their life."  
She said, "I hated to see what my friend went through and feel  the more money that's raised the fewer families will have to go through this." 
She added,  "Coronavirus has taken over everything, but cancer hasn't stopped. People aren't going to get checked and the number of people being diagnosed has dropped. We have to keep everyone aware because if people are deciding to wait a couple of months before going to see a doctor that a couple of months can save someone's life - catching things early can save lives".
If anyone is concerned about their health, even during this isolation period, they should still contact their GP for advice and support.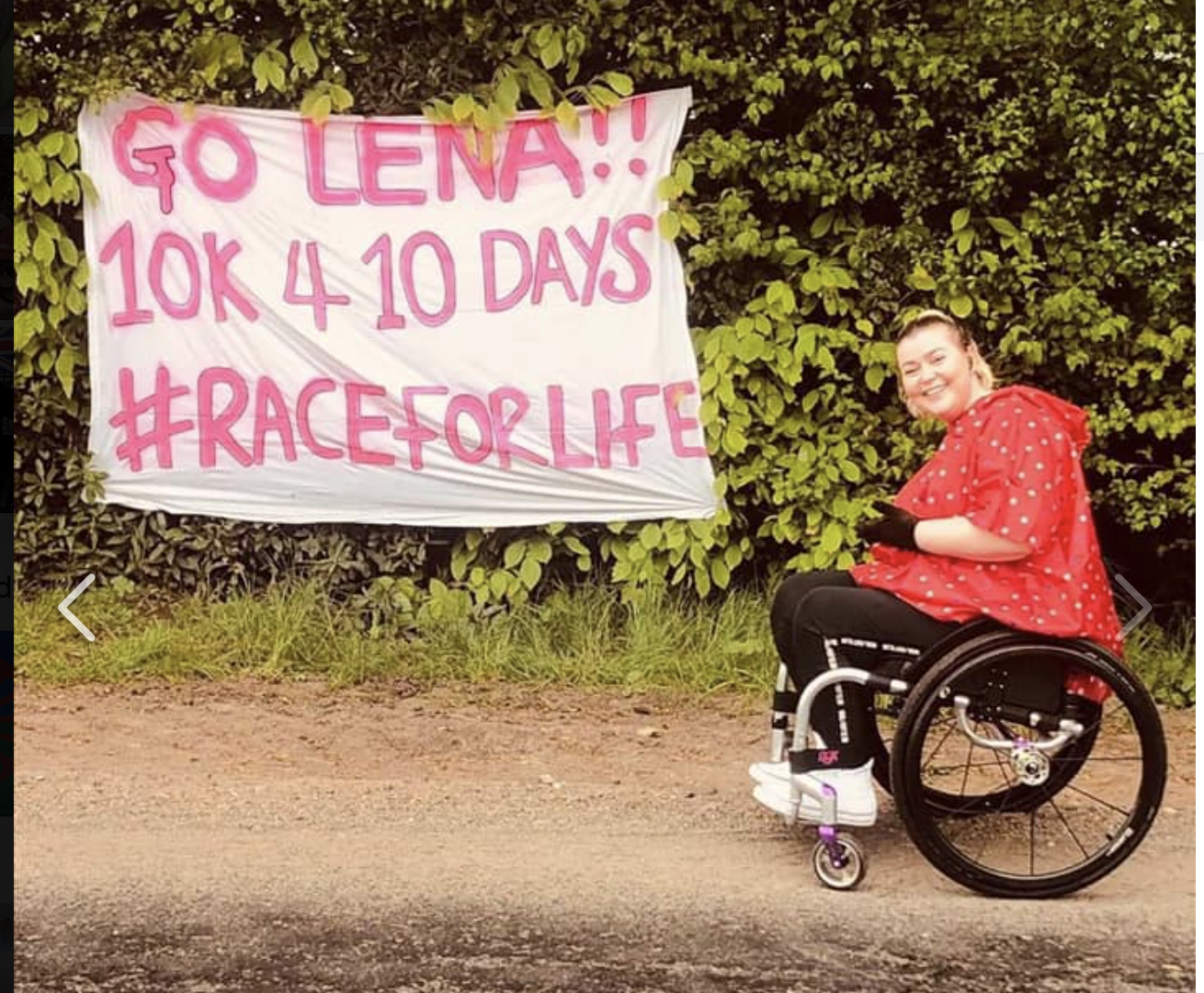 ---