A lighter touch – why we sometimes need to poke fun at injustice
3 November 2015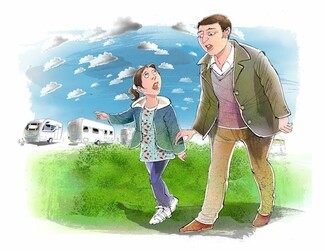 Introducing Molly – Something a bit different from Ben Chastney… 
I have recently been writing a set of short stories, cartoon strip like in nature, which hopefully illustrate some injustices our members sadly often face. The first episode of 'Molly's adventures with Travellers', will be up on the website soon and before that it seems worth explaining the rationale behind it all.
Most simply, I wanted to approach this issue, of inequality and discrimination, differently. We quite rightly present information, using facts, figures, hard case studies and research to draw attention to various inequities and unfairness experienced by Gypsies and Travellers. However, on occasion there is merit to taking a different approach, with a different tone and format. Not only does sometimes help attract a different audience, or get the same audience to think about the same issue slightly differently, but it can simply represent a little light relief.
It can be challenging to see, read and talk about unfairness or discrimination all the time. It is naturally harder still for our members who have to live and experience this directly. Instead of ignoring the subject, I have rather wanted to poke fun at some of the misunderstanding, hypocrisy or simply thoughtlessness which lies behind much discrimination. This approach hopefully addresses these serious issues but does so in a lighter fashion.
My interest, and consistently that of GATE, is less to avoid personalising the debate. Each episode has a character, whether the dad, teacher, GP receptionist etc. who is for one reason or another making life tough Gypsies and Travellers. The key part is not to challenge them as an individual but rather the views they hold. By doing so in an inquisitive fashion, as opposed to solely adversarial, we can expose flaws to consistently held beliefs without belittling but rather informing. That is an approach I like to think we apply across all our work more broadly at GATE.
I stress that whilst each episode will represent a particularly difficult experience, the events are not exaggerated, even if they may be rare. Certainly, many of the things said and seen sadly fit well within the range of experiences of GATE and its members. Of course, not every camp, school day or Doctor's visit goes like this, but we know that they can and the more problematic examples are most useful to illustrate how and why things sometimes go wrong. Hopefully as the series goes on things will become more positive as there is a virtuous circle of learning; watch this space.
I hope you enjoy the upcoming episodes and might agree that sometimes it is necessary to take a lighter tone and approach to tackle serious issues. Please do let us know what you think.
ILLUSTRATED BY PETER HUDSPITH
Originally published http://www.leedsgate.co.uk/2015/10/26/a-lighter-touch-why-we-sometimes-need-to-poke-fun-at-injustice/
---