Memories from a Romany Childhood P4 by Chris Smith
5 May 2020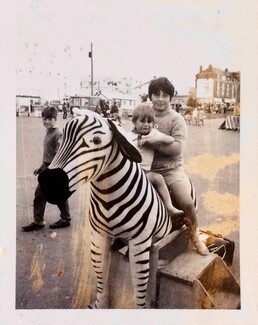 This week we are pleased to bring you the fourth story in the series 'Memories from a Romany childhood'  by Romany Musician and previous TT manager, Chris Smith from Herefordshire  
Me Mams best friend was a Gorja. I loved Doreen Scott and her partner Clive......writes Chris Smith. They were warm, kind-hearted people who lived without prejudice, and I learned from a young age that not all Gorja's viewed Travellers with suspicion and hate. Indeed, because we lived in a small village and worked on the land we had no choice but to take people at face value, as most of our fellow workers (outside of hop and fruit picking) were country people.
Mrs Scott always gave me gifts at Christmas and birthdays. They were presents that fed my imagination and helped me learn. She recognised that I had an inquiring mind and encouraged me to follow my interests. Mam and Dad were keen for me to do well in education too. Dad, in particular, recognised that the world was changing, and most of the jobs that Travellers had traditionally done would no longer exist in an increasingly mechanised world.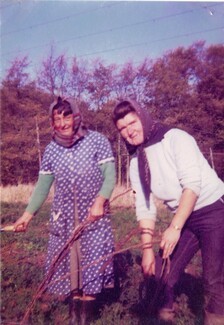 Doreen and Clive were responsible for giving me my first excursion to the seaside. Mrs Scott arranged a day trip, booked a bus, and ensured that most of the kids and parents from our village were on board. The Scotts, ironically, were Welsh, and me Mam had been born in Nantyglo, so they had a natural affinity with resorts such as Barry and Porthcawl in South Wales.
I liked being on the beach making sandcastles but I loved the fairground rides more. The excitement of going on the Big Dipper was huge. The thrill and speed were like nothing that I had known before, and Clive would say "He had his eyes closed for most of the ride", so we would stay on and go around again with Clive encouraging me to keep my eyes open this time so that I got the full experience.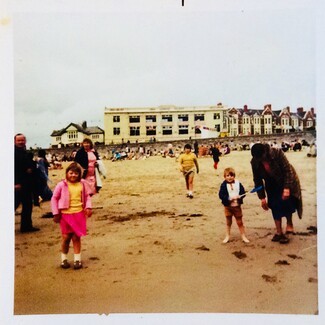 The old saying goes that 'pride comes before a fall' but I think it depends on what or whom your proud of. I wanted my parents to feel a sense of pride when they spoke about me. One of the ways I could achieve this was through doing well at school. My first primary school in Yarkhill closed in August 1969 when I was eight years old. I would begin the new term that September at Withington County Primary School.
The headmaster of Withington school then was Mr Edwards. He treated us Traveller kids no differently from the Gorja children, and he recognised my academic ability and especially my love of books and literature straight away. He was a wonderful narrator and enjoyed reading, and bringing alive, novels such as The Borrowers, and my personal favourite The Weirdstone of Brisingamen by Alan Garner, a book that I have read many times, even as an adult.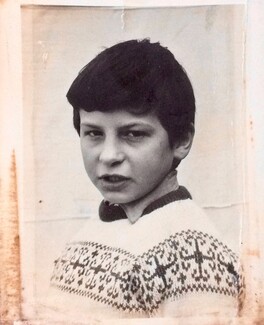 One of the highlights of the school year was the nativity play. Us Traveller kids didn't usually get any of the major acting parts. We had learned from experience at our previous school not to expect too much. One day as I walked past the staff room door, I overheard a heated debate going on inside about who should be the narrator of the play. The narrators role was the plum part and there was quite a bit of competition for it. I clearly heard Mr Edwards say, "I don't care about that, he's the best reader and he can give it the gravitas that it deserves". I wasn't sure what gravitas meant and had to look it up in the dictionary. Later that day Mr Edwards took me to one side and asked if I would take on the narrator role, I agreed immediately.
I practised for many hours leading up to the first performance to ensure I was word perfect. My Mam and Mrs Scott attended the first night and chose seats in the front row. I was the only child to be on stage for the entire play, standing behind a lectern on a wooden box, stage right, so that I could be seen by the entire audience. Thankfully the practice paid off, I read with authority and confidence, and I will never forget the looks of relief on my mother's and Mrs Scott's faces. At the end of the performance my Mam had tears in her eyes and Mrs Scott stood up and lead the applause, both were beaming with pride.
I will be forever grateful to Mr Edwards for giving me that opportunity, in fact he played a large part in instilling belief and self confidence within me. When I walk onto a stage even now, whether delivering Traveller awareness training to the Police or as a singer with The Brickshed, I often think of him, and inwardly thank him for being the brilliant teacher he was.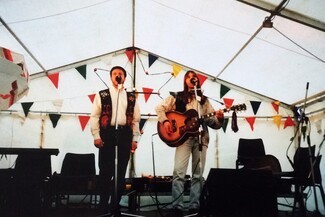 Main photo: Chris Smith and a neighbours boy at the seaside in Barry, South Wales 1969. All photos featured are (c) Courtesy of Chris Smith.
---