Paws for thought....Jack's jukel Judy.
14 August 2018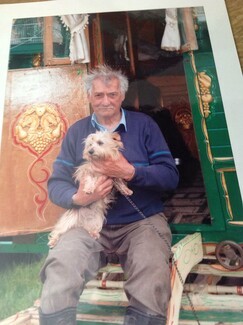 Ryalla Duffy appeals for information about Jack Evan's missing dog Judy – believed stolen at Appleby - and how Jack's friends have raised £1.6k for a reward for Judy's return.
It's not often I write an appeal, but in this case it's such a good cause… writes Ryalla Duffy. Travellers Times have featured Jack Evans in the past. He's a real old fashioned Romany and a gentleman, well known for all his fund raising and charity work. Even in his 80's, 'Uncle Jack' still makes the journey to Appleby, with his horse and waggon. This year was no exception. I spotted his turn out on the way up from Kirby Stephen and gave him a toot and a wave. The weather was very hot and he'd stopped to rest his horses half way up the hill and chat to friends. He looked happy and relaxed though a little tired after his journey, anticipating a good week ahead.
One of his companions and lifelong friends on the trip, was his beloved little dog Judy, an eight year old female, rough coated, little gold red and white terrier bitch. When Judy wasn't loose with Jack, she slept tied on a chain with a mauve plastic dog carrier, close by the waggon step.
On the first night folk were allowed to pull on the field at Appleby, Jack was horrified to discover, around midnight, that both Judy and her little carrier were missing. A frantic search of the area was made, to ensure she hadn't been moved in error, or as a prank. Sadly the little sandy-haired dog was nowhere to be seen and the truth of the matter had to be faced that Judy had been stolen.
Quite why is difficult to understand, this little dog was far too old for breeding purposes and suffered health problems into the bargain, she regularly needed medication. Her main purpose in life had been as a treasured companion.
For the duration of Appleby, Jack scoured the fair....asking for information and making a plea for her safe return. For those who have known the loss of a much loved animal, the separation is heart-breaking. Authorities were contacted nationally and wardens and rescues informed.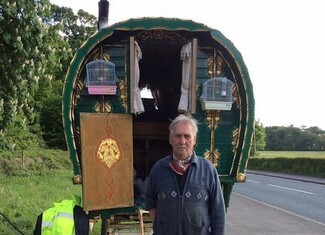 Friends, concerned for both Jack and Judy's well-being, raised a whopping £1600 reward, for the safe return of the terrier. Video appeals were made, and a succession of posts on social media. Photos of dogs found, of similar appearance, have been forwarded, in the hope she might have been found, having been dumped or released. All to no avail.
This isn't about restitution, it's simply about getting Jack and Judy reunited and seeing her tail wag and his face smile again. A photo of Judy accompanies this article....along with her master who pines for her return.
If anybody has the dog, knows who has it, has information about her disappearance, or would like to return her in confidence, the details are below. Please let's get this team back together.
The number to contact is 07305878006.
(c) Ryalla Duffy 2018
Main photograph kind permission of Jack Evans.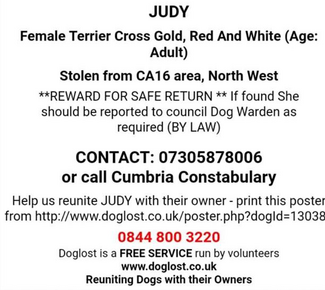 ---