Report Racism GRT - Meet the team fighting back against 'the last acceptable racism'!
8 May 2018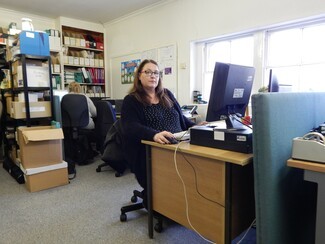 Report Racism GRT is a Gypsy, Roma and Traveller lead team that fights back against racism, anti-Gypsism and hate crime aimed at Gypsy and Traveller communities. Hate crime and hate incidents can be reported to Report Racism GRT through their Facebook page, their website or by calling their new Freephone number 0800 81 01 800. On June 20th Report Racism GRT will be launching a new report on hate crime against Gypsies, Roma and Travellers at the Resource Conference centre in North London, followed by a meeting in Parliament hosted by Goldsmith's College and the All Party Parliamentary Group for Gypsies, Roma and Travellers. The Travellers' Times went to meet the Report Racism team – part of GATE Herts - at their headquarters in Hertford.
The comments are "vile" and include "death threats" say the Chorley Romany campaigners
It's a typical day for Report Racism GRT. It's Friday afternoon, April 27th, and Nicola Jackson, a member of Chorley Romany, a Facebook group for Gypsies and Travellers and their supporters based in Chorley, Lancs, has spotted some racist comments about Gypsies and Travellers under a post about an unauthorised camp put up by a Councillor Paul Wharton from South Ribble Borough Council, also in Lancs. The Councillor for the East Farrington ward is accusing a newly arrived Traveller group of stealing milk from the doorsteps of local people - and also of committing other local crimes (It is later revealed that no milk was stolen – the milk float was late that morning and no milk had been delivered). However, that simple fact – nor the unproven nature of the Councillor's other accusations - stop the litany of hateful, racist and illegal comments that suddenly start appearing under his post. The comments are not only targeting the newly arrived group – but all the UK's Gypsies and Travellers, and the comments are "vile" and include "death threats" say the Chorley Romany campaigners. The Councillor does not delete the racist and illegal comments as he should, and – at first – does not answer private messages from the campaigners asking him to delete the comments.
Luckily, the Chorley campaigners know what to do and know that they can't let this go unchallenged. Rather than call Report Racism GRT on their Freephone telephone number (0800 81 01 800), a Chorley Romany admin tags a well-known Report Racism GRT Hate Crime Officer – a Gypsy herself – into the discussion Chorley Romany are having about the comments on their own page. The Report Racism GRT Hate Crime Officer – as she is one of the four that is on duty at this moment in time - responds to the tag and acts fast. The comments include death threats so she calls the local police. The police act and contact the councillor, who swiftly removes the post and almost – but not quite – apologises.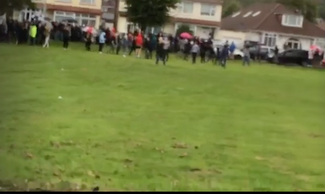 Sounds like a trivial Facebook spat? Wrong! The Travellers' Times has had reports of anti-Traveller Facebook posts leading to ugly real life vigilante mobs descending on Traveller camps looking for aggro. Virtual death threats can lead to violence. The mere unchallenged existence of such material on popular social media platforms also forms a sort of a background noise to all the other forms of anti-Gypsy and Traveller racism and discrimination: discrimination by restaurant and pub owners, the bullying at school, the casual racist insults, the often careless and derogatory statements about Gypsies and Travellers put out by public officials and the anti-Traveller laws that the government keep trying to bring in.
"Someone doesn't have to hate you to commit hate crimes against you, they may only dislike the fact you are a Gypsy, Roma or Traveller," says Report Racism GRT.
"A lot of people may try to ignore hate crime, but it is important you let someone know if you think you have been victimised. It is sometimes hard to report incidents as you might be scared that things will get worse or don't know if it will be taken seriously, if you are worried or concerned get in touch with us and we can help to support you in taking it forward or just give some advice.  GRT communities are highly vulnerable to racism and discrimination and this is unacceptable."
The GATE Herts/ Report Racism GRT team
Report Racism GRT is hosted by GATE (Gypsy and Traveller Empowerment) Herts and also operates from their offices in Hertford, Herts. As well as founding GATE Herts member and CEO Josie O'Driscoll (Pavee/Irish Traveller) and Report Racism GRT Project Manager Sherrie Smith (Romany), there are now two more workers in the Gate Herts/ Report Racism GRT office - Ciprian Ioniță (Roma) and Claire Rice (Romany).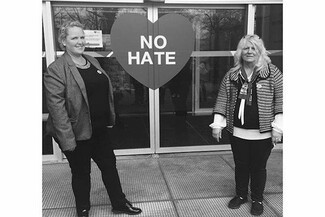 Policy Officer Ciprian Ioniță, joined the team in February 2018. He comes from a family of Kalderash Roma from Romania and is very passionate about fighting social injustice, hate crime and inequality. He took his BA degree in Law and he continued his graduate studies abroad where he specialized in the field of international human rights law.  Ciprian's professional interests also include Roma Holocaust.
Hate Crime Officer, Claire Rice joined our team in February 2018.  Claire comes from a long line of English Romany Gypsies.  She is passionate about fighting social inequality, women's and children's Rights and combating racism.  She took her BSc in Psychology and Criminology at ARU Cambridge following on with a MA in Criminology, also at ARU Cambridge. Her academic speciality is the psychological and criminological impact of hate crime.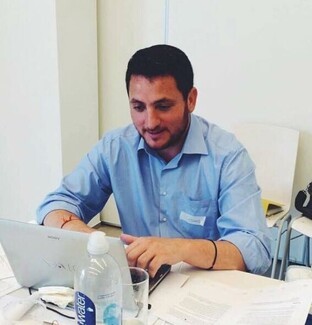 The Report Racism GRT Parliamentary meeting and hate crime conference
It will be the GATE Herts/Report Racism GRT team that will deliver one of the most important conferences and parliamentary meetings on hate crime against Gypsies, Roma and Travellers this year. Report Racism GRT says that a dedicated community lead unit to help Gypsies, Roma and Travellers to challenge hate crime as research shows that many GRT suffer in silence because they don't trust the authorities to take crimes against them seriously. This conference is to highlight that, to look at the work that has been done around hate crime, and to also look to the future and to see what more can be done.
On the evening of the 19th June, later this year, starting at 5.30 and finishing at 7.30pm, Report Racism GRT, with the help of London's prestigious Goldsmiths University, will be launching their report on their work and on hate crime in Parliament. The event, hosted by Baroness Janet Whitaker from the All Party Parliamentary Group for Gypsies, Roma and Travellers, is free and will take place in Committee Room 2a, at the Palace of Westminster London SW1 (use Cromwell Green Entrance and allow half an hour to pass through security). The event will also include a community lead discussion. Spaces will be limited so email GATE Herts through sherrie.gateherts@gmail.com to be put on the list.
Following this, on the next day on the 20th June at the Resource for London, N7 (home to the annual Traveller Movement conference), Report Racism GRT will be holding their own conference that also focuses on hate crime. For more information and tickets book here.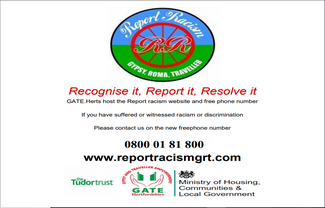 GATE Herts hosts Report Racism which allows victims and witnesses of hate crime who are not comfortable reporting directly to the police, to contact us instead. You can report via freephone on 0800 81 800, or online through our website at www.reportracismgrt.com.
By Mike Doherty/TT
(Main picture: Claire Rice Report Racism GRT Hate Crime Caseworker ready to challenge racism against Gypsies, Roma and Travellers © Mike Doherty)
---