Spotlight: "Education is the most powerful tool we have to make a change" - Chelsea McDonagh
27 April 2020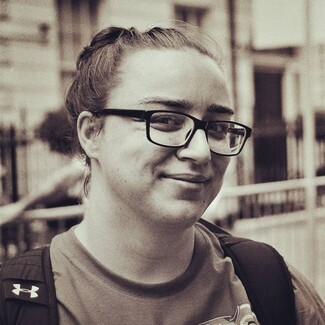 This month the YTT spotlight is on Chelsea McDonagh, Education Policy and Campaigns Officer at The Traveller Movement and Education Masters Student at King's College London.
I'm passionate about education because I think it is the most powerful tool we have to make a change. It's the key to so many doors........writes Masters in Education student Chelsea McDonagh. 
I know it sounds cliché but in order to create meaningful change for Gypsies and Travellers, we have to be working in top jobs. The more I learn about the world and how things work, the more I believe that we have to be on the inside and sitting at the table to make change. If not, we're always on the outside shouting, whilst the politicians have us on their dinner menu.
The world is changing and having an education is about giving ourselves and our children, the best and the most options we can. Education to me is about more than what you learn in the classroom, that's only part of it. Education is also about learning how to play the game and talk in different languages. We might all be speaking English but the language of doctors, lawyers and politicians is a far cry from the language we speak at home. By learning this, we learn how to challenge them and play the game. We learn how to move between both worlds without losing ourselves.
"Education is the passport to the future, for tomorrow belongs to those who prepare for it today." – Malcolm X
I love learning even though I'm a really rubbish student. Everyone expects that to be a good university student you have to go to all of the lectures and make notes but I'm not really that kind of student. Actually, the things that make me a really successful student are the things I used to get in trouble for at school. I have a tendency to skip lectures (lessons) and do a lot of my own study, I read the books that I'm interested in, rather than the books that I am told to read. I tend to write my essays on the things that interest me most, finding a way to fit it into the standard essay question. The best thing about university is that it allows flexibility and freedom. 
I've worked in education in various roles, the last as a Further Education Sports Lecturer. I enjoyed my job and the young people I was working with but felt frustrated by the education system which I saw failing hundreds of kids every year. There was a sense of helplessness because you were limited in what you could do to actually make a difference.
I also wanted to help my own people and make sure that Gypsies and Travellers are benefiting from the education system. I enjoy my job because there is so much variety to it, some days I'm meeting with politicians and government officials and other days I'm doing research and dealing with casework. No two days are the same and I work with a really great team. I'm empowered through my job and the thought of creating change and making things better drives me in my day to day work. 
You can follow Chelsea on Twitter @chelsmcdonagh and The Traveller Movement @GypsyTravellerM for the latest updates. 
---