'Taking back the camp' - Romani artist Dan Turner talks to TT
14 June 2021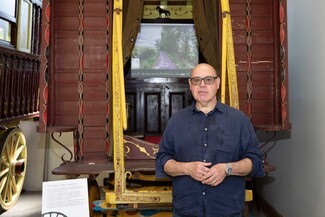 Romani Artist Dan Turner at the 'Kipsi' exhibition at Hartlebury Castle Museum (C) Stefan Hardy and Meadow Arts
On a scorching hot day in early June 2021 Travellers Times sets out across the rolling countryside to meet Romani Artist, Dan Tuner at Hartlebury Castle and Museum in rural Worcestershire. The museum is home to a beautiful collection of Gypsy caravans showing the evolving style of the Vardo as well as other horse drawn vehicles in the display, include carriages, farm trailers and commercial carts as well as more unusual vehicles such as an ambulance, hearse and fire engine!   
Inside the cool of the Vardo shed at the museum is a new digital art exhibition by Romani Artist Dan Turner, a digital commission from arts organisation Meadow Arts as part of their 'Ruralities' project, a set of digital art commissions, made in lockdown, launched online and now exhibiting in County museums of Herefordshire, Shropshire and Worcestershire. 
It's the perfect place for 'old to meet new' as you stand amongst the beautiful old wagons and Vardos with the sound track of the hustle and bustle of Stow Fair playing in the background and see the art on screen inside them.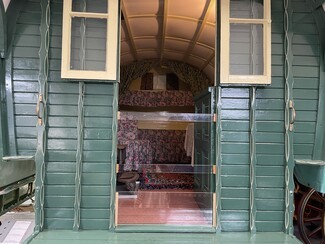 Born in Kent, Dan moved to London and studied at Saint Martin's School of Art where he completed a BA Honours in Fine Art (Sculpture).
Dan's current creative practice uses lots of mediums including sculpture, video and painting.
"I wanted to make a change from making art for Gorjas and explore my own traditional history and heritage a bit more, it's something many artists do but there seems to be some resistance when comes to Traveller art" said Dan. "I like to explore where Romany and mainstream cultures meet, in the past I've made sets of pegs the old fashioned way, cut in copse, using tin scrap and then cast them in bronze and combined them in different ways. I have made other iconic traditional objects too such as caravans and wooden flowers. Human life can be defined and archived through the objects they make and these objects communicate across the ages and articulate what that culture is to a wider audience. Once there was a really visible Romani presence in urban and rural areas - now we are invisible until there is something negative to say, I want to reclaim our space in the world. I really believe there is a need to reset the balance between Traveller and non-Traveller, get talking and change entrenched stereotypical attitudes, a "taking back of the camp"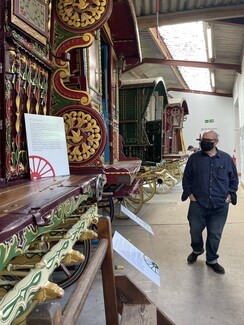 The Covid-19 pandemic and lockdown changed the world for everyone for a while including Dan, who had to adapt to creating work for audiences in a different way using old footage, google mapping, photography and new video all set to an audio sound track recording at Stow Fair. A performance of the work 'Kipsi' was launched online on May 4th but is now on display inside the Vardo collection.
Dan tells us the meaning of the name of his exhibition. "I called the exhibition 'Kipsi', which is Romani for basket, traditionally sold with flowers in the spring/summer and sometimes at Christmas," Dan told us. "I have made work before using the traditional hanging baskets filled with wildflowers but it was a more personal memory that led to the title. My Aunt Sally used to go calling with a basket on her arm well into her 80's, even getting on the bus when my Uncle Sam died. When I was younger she had a basket filled with little bits and pieces - pegs, hankies little dried flower posies she made all covered with a Diklo. The film reminded me of her basket filled with a jumble of things, hidden and enticing."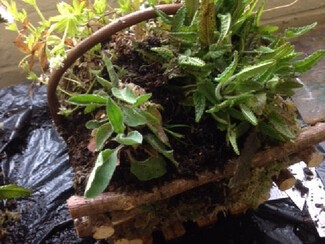 Next on the horizon for Dan is a digital project mapping old traditional stopping places and names in the area using Google Maps. "When I was creating Kipsi I realised how many Gypsy Lanes and 'Gypsy hills' there are which will all have had significance to my people when working the land in the traditional nomadic way. With the ridiculous new anti-Traveller, anti-trespass law looming it is more vital than ever to highlight and celebrate these traditional spaces and places with deep and meaningful connections. There are places where people got married and were buried, and they were built on and destroyed with no regard for the significance they hold for our ancestors. If the Government have their way this way of life will be gone forever, people imprisoned, their homes confiscated and lives and those of their children ruined – it madness. "
TT also spoke to Leanne O'Connor, Artistic Programme Assistant at Meadow Arts, who commissioned the work as part of their Arts Fund and Arts Council England funded lockdown art project 'Ruralities'.  Leanne tells us that they jumped at the opportunity to work with Dan. "I was aware of Dan's other work already and a real admirer so when he applied, we thought 'yes, please!' and the Hartlebury Castle Museum was a perfect rural space to respond to the Ruralities brief. We really want these projects to have a 'long trail' and we feel this just the beginning of the work, we are hoping for some more collaborations in the future."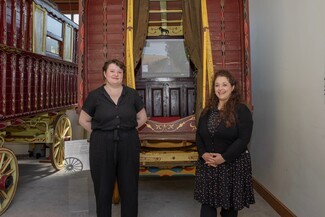 Hartlebury Castle Museum has recently engaged Romany Gypsy Georgina Stevens as their Vardo Project Curatorial Officer and Travellers Times is hoping to work closely with her to help realise some of the exciting plans she has around art, heritage and education. "The aim of this work is to re-ignite the passion people have for the 'Vardo shed' and bring it to life inspiring and educating a new generation of visitors as we explore heritage with a modern twist. As the lock-down world begins to open up - 'watch this space" said Georgina! 
Get in touch with Georgina HERE
Dan Tuner's Kipsi exhibition is at Hartlebury Castle and Museum until 8th July 2021 and then online via Meadow Arts website 
By Julie Colman for TT Team
Museum Worcestershire are looking for stories from Gypsy and Traveller people locally who can share memories, stories, photographs and traditional crafts - find out more HERE 
---