"There'll Always be an Appleby" a book review by R.T. Acton
3 August 2020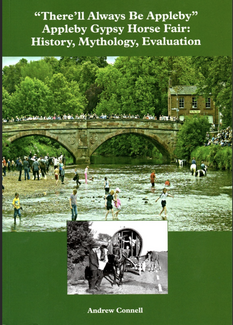 This is a serious volume of sturdily well-researched local history, extra-ordinarily low-priced for an academically respectable volume, which everybody who loves Appleby Fair will wish to possess..... writes Professor Thomas Acton.
 It sets out and historically contextualises the development of Appleby New Fair, disposing of various myths about its origins, and, what is more, showing plausibly how those myths arose and what purposes they served at the time. Mr Connell taught history at Appleby School, and this volume displays all the punctilious rigour of a grammar school history master, fingers grubby from old archives, out to show there is always a reasonable explanation for the way things were and the way they are now.
He is also a former Mayor of Appleby, and district and local councillor, and has a deep empathy and understanding of the way local government works, how disputes arise and are settled. If you are a Traveller, Gypsy or Rom who wants to understand how Gaujo politicians approach negotiating with Romas at a local level over several centuries, this is a book you must read.  It is transparent, critical, and contrasts different approaches, rather than over-generalising about policy.
In analysing the approach of Gypsies, of course, Connell is coming from the outside, but he does his best and has attempted to read himself into Romani studies. He discusses Gordon Boswell at length and has talked to Billy Welch and many others. He documents their public positions and records contemporary Romani and Traveller evaluations of the fair both positive and negative and does convey the immense love that many older Gypsies have for this now iconic gathering, as indicated in the title quotation.
He also briefly compares Appleby Fair with other great Romani gatherings, such as Saintes-Maries on the French Mediterranean coast. He takes the point that very often they have developed from a time when nomadic, persecuted Roma/Travellers could only gather in numbers without appearing threatening to Gaje, at a time and place where they would still be outnumbered by Gajo crowds gathered for markets, pilgrimages or races, and that it is only as those Gajo events have withered that the Romani gatherings they camouflaged have become public, and even cherished as historic cultural events in their own right. But that misses the way in which camouflage is still needed to evade racism. Many Gypsies and Travellers still trade horses and seek marriage partners at Appleby and Epsom, but wealthier individuals transact more serious business at Silverstone or Cheltenham, the point being these are NOT known as Gypsy gatherings,  (yet, at least.)When Django Reinhardt wrote his moody, autumnal tune "Place de Brouckère" he knew he was painting a musical picture of the quarter of Brussels where wealthy Roma and Sinte, especially musicians, lived. But who but Roma knew? – which was just as well during World War II.
Andrew Connell "There'll Always be an Appleby" Appleby Gypsy Horse Fair: History, Mythology, Evaluation." Cumberland and Westmoreland Antiquarian and Archaeological Society, Carlisle, 2019 ISBN 978 1 873124 819. £12.99 Illustrated with numerous b/w photos.
---