Worth his weight in Gold!
5 August 2021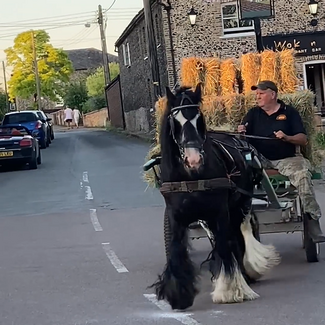 The Travellers' Times recently caught up with Tina Earith to talk about the amazing video she shared of her Husband's Gypsy Blagdon Cob gelding pulling a hay cart through Lakenheath, Suffolk.
It turns out that Usher, the nine-year-old pony was collecting lunch for himself and his other horsey friends back at their yard.
"He worth his weight in gold," Tina tells the Travellers' Times. "We have another field and he was pulling 16 bales of hay back to the yard. That's my husband Paul driving."
Tina has ten horses in total, seven other cobs and three Belgian draught horses.
"When we are out with our horse and cart we do get a lot of attention," laughs Tina. "There's a lot of Americans from the air bases around here and they usually stop their cars to let us pass and to video us on their phones."
Tina has been going to Appleby Horse Fair for 26 years and hopes one day to take to the road with a horse and Vardo. "It would be just for a break," says Tina. "More like a holiday than full time!"
Mike Doherty/TT News
---