Would you like to develop your skills as a storyteller? Hedgespoken is running a series of workshops online
29 July 2020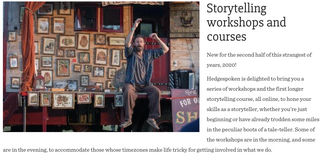 Would you like to develop your skills as a storyteller? Hedgespoken is delighted to bring you a series of workshops and a longer storytelling course, all online, to hone your skills as a storyteller, whether you're just beginning or have already trodden some miles in the peculiar boots of a tale-teller. Some of the workshops are in the morning, and some are in the evening.
Thanks to some Arts Council funding, there are a number of FREE places on each of these workshops and courses. 
Speaking to the Travellers' Times Rima Staines said: "We run Hedgespoken, a traveling storytelling theatre built on a vintage truck. We are running a number of online storytelling workshops for beginners and experts alike, as well as a longer six-month storytelling course. Thanks to some Arts Council funding, we've got some FREE bursary places for people from Gypsy/Romany/Traveller backgrounds as well as refugees/migrants and other travelling people. The workshops and courses start in August, but places are filling up fast" 
You can find out more about them and how to get a place at https://preview.mailerlite.com/h6s3k5 
Hedgespoken is an organisation committed to raising the voices and hearing the stories of Travelling peoples themselves rather than perpetuating the distant romantic or discriminatory stories about them.
---