Horse microchipping law from October 2020 - a Redwings advice film
21 September 2020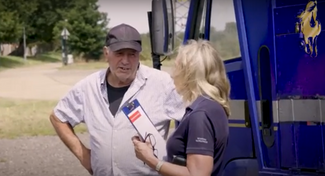 Redwings horse welfare charity talk to Gypsies, Travellers and horse breeders about the new microchipping law for horses and donkeys - and what it means for you. A Redwings film published in the Travellers' Times.
Are you ready for the new horse microchipping rules? Please share and spread the word!
- 1st October 2020; all horses in England must be chipped and registered by law, regardless of their age.
- 12th February 2021 – the same for all horses in Wales
- 28th March 2021 – the same in Scotland
Whether we like it or not, failing to microchip is likely to end up causing difficulties and heartache. Alongside Len and other long-term horse owners, Redwings also faces the challenge of microchipping all our horses, especially as many of our residents are nervous.
But, believe it or not, there are lots of benefits for every horse owner. Redwings has been contacted about lost horses after Appleby Horse Fair for example. Microchipped animals stand a better chance of return.
Here are some other benefits of microchipping your horse. Follow the link below to find out more…
Reuniting stray horses with owners (proving ownership of any animals impounded)
Sharing information on stolen horses
Checking age and ownership when buying a horse
Helping trace owners of horses who have been neglected or abandoned
Reducing illegal and fraudulent horse sales
Ensuring a horse cannot enter the food chain
Building a picture of the UK horse population so we can better understand and support it
More information about microchipping by following this link here.
Find out more about Redwings Horse Sanctuary and their work at Appleby Horse Fair
The Travellers' Times are publishing a series of eight horse welfare films made by Redwings featuring Gypsies, Travellers and Appleby fairgoers talking about their horses.
So far we have published three others.
They are: 
HOW TO TETHER HORSES SAFELY - A REDWINGS HORSE SANCTUARY FILM
HOW TO CHECK IF A HORSE IS TOO FAT OR TOO THIN - A REDWINGS FILM
STAYING SAFE IN THE RIVER AT APPLEBY - A REDWINGS FILM
Redwings/TT
---