Walton Oak School celebrates Gypsy Roma and Traveller history month
25 June 2018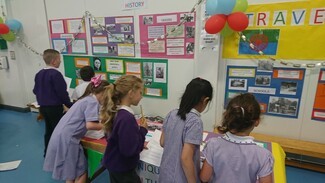 Walton Oak School supports its Traveller community with culture day project to bring people together.
To celebrate Gypsy, Roma and Traveller History month, Walton Oak School and its Traveller families hosted an educational day of learning to help broaden pupils' understanding of Travellers' lives.
On Tuesday 12th June, pupils were treated to a cultural feast of storytelling, artefacts, pictures, music and food from Traveller culture.
Children had quizzes to answer from each of the displays which guided them through time – covering history, origins, unique culture, the Holocaust,  the first Gypsy schools - through to the modern day – covering and tackling discrimination, Traveller role models and famous people and celebrations.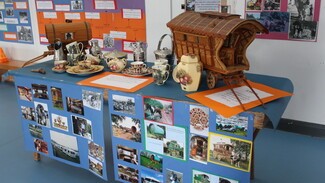 Head teacher, Miss Mandy Watts said,
"We're proud of our diverse community and we embrace all of the different cultures that brings. It's important for us to shine a light on our Traveller families so we can teach all our children the importance of everybody being treated fairly and equally. There's good and bad in everyone, whatever their background. Our commitment is to promote inclusion, not exclusion".
Mark Haythorne, Project Officer, for Surrey County Council's Brighter Futures for Gypsy Roma Traveller children who attended the event also spoke about the importance of schools celebrating and promoting the history and culture of these communities.
"The more work done in schools to deliver better understanding the better. It's at this grassroots level that we need to tackle the issues surrounding equality for children from these communities".
He added, "This is a pioneering project from Walton Oak School and a model that we want to encourage other schools to follow". 
Walton Oak School would like to give special thanks to the Gypsy, Roma and Travellers Forum for providing funding for the storytellers Vardo and to The Rural Life Centre for supplying it on the day.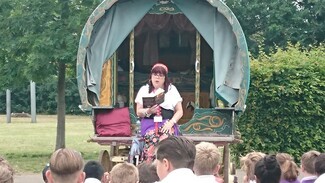 ---