Mapping the Histories of London's Travelling Communities
31 October 2018
Generations of Romany Gypsies, Irish Travellers and Travelling Showpeople have been Londoners, making a unique contribution to the social, economic and cultural life of the city. Much of this history remains unrecorded or hidden in local archives. Non-Travellers have ideas about stereotypical 'Gypsy' occupations, but it wasn't all about pegs and basket-making, essential as the craft industries once were. Nowadays the baskets you find in the local market have probably been imported from China, but the stall owner could well be a Gypsy or Traveller. London Gypsies and Travellers are working on a new project and calling for community members to take part in a variety of ways. Anna Hoare, who is co-ordinating the project at LGT, said: "This will be the first interactive, online map of London to foreground the knowledge, skills and cultural lives of Travelling people, using a combination of sound and voice, photography, video and archival material, linked to maps of the changing city. Members of the Travelling communities of all ages can take part in any way they choose to document and portray the lives, histories, skills and experiences of London's Travellers, as well as the challenges they still face."
The project is offering training in;  
Photography
 oral history collection
video-making to community members who would like to take part as community researchers
Whether to learn new skills, or practise and develop existing ones. The training is relevant for anyone with interests in media, community development, visual arts, social history or politics. Participants will develop a portfolio of practical learning to take forward to further education, training or employment. The training course is open to community members from London and beyond.
London Gypsies and Travellers are also interested in hearing from members of the Travelling community who could offer (paid) training sessions; or take part in the project through making a video, recording oral history or making a sound diary. Whether you have a story to tell, a skill to share, or just enjoy listening – please get in touch contact Anna Hoare ahoare@londongandt.org.uk  Mobile 07494 969356.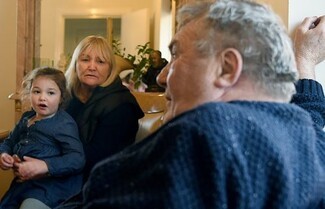 Anna has already been talking to lots of people and sent us the following blog;
"Gypsies, Irish Travellers and Showpeople adapt to the world around them and use their savvy to create opportunities. Last week I learned how Romany Gypsies kept livestock on the London commons, drove their stock to East End slaughter houses and sold the meat to select restaurants, cutting out the middle men at every stage. On the way back people called into the factories and sweat shops of the East End to buy cheap clothes to sell in the markets of Surrey and South London. Some families ended up buying the slaughter houses. Others bought lorries flogged off after the war by the military, and went from driving livestock on the hoof or in carts on the Woolwich and Gravesend ferries into haulage. This ability to adapt meant that many successful businesses associated with the changing landscape of post-war London were set up by Gypsies and Travellers. Knowledge associated with one activity was quickly adapted to others. Take car production. In the 1960s Gypsy and Traveller women used their renowned sewing skills to get jobs as machinists in the upholstery workshops of Ford at Dagenham, while men worked on the new car production lines. The histories of Gypsies, Traveller and Showpeople are as mobile and complex as the world around them, and their long family histories as Londoners bear witness to this fact.
As the City undergoes further change over the next decade shaped by the London Plan, it is vital that these long-overlooked histories are better appreciated and understood, and that the voices and views of Travelling communities play their rightful part in planning and decision-making. As London's oldest, most enduring cultural minority, the myth that Travellers' lives and livelihoods are disconnected from the rest of society must be dispelled once and for all.
As recently as May 2018 a Commons Briefing Paper referred to a "lack of robust evidence" relating to Travelling communities. This often-repeated claim has been a handy excuse for neglecting the needs of all Travelling communities. In response, London Gypsies and Travellers is undertaking a London-wide project to map recorded population data, sites, camps, and tenures across every London borough, and to bring the voices of Travelling Showpeople, Irish Travellers, and Romany Gypsies across London to the production of their own histories. The project will create accessible online maps showing existing sites and yards as well as those that have been lost, and foreground the experiences of London's Travelling citizens of life in London today, as well as their histories"
The project is funded by a grant of £99,900 from the Heritage Lottery Fund, made possible by money raised by National Lottery players.
London Gypsies and Travellers will work with Mapping for Change, a social enterprise that links mapping with local community knowledge to create tools for social change.  
---