Roma need Democratic Transition says Grattan Puxon
21 August 2019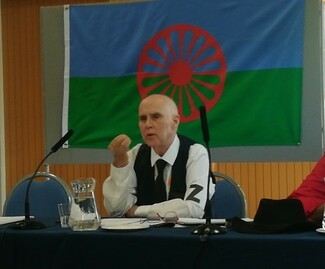 Interview with Grattan Puxon by Alunica Lepadatu
From the beginning of the year 2019 a new wave of Roma political involvement initiative is strengthening its positions in the UK. Is it the upcoming Brexit, threatening European immigrants, including a large number of Roma, the increase of anti-Roma actions by political leaders in Europe, or is it just the right time to make a step towards Roma socio-political development?
Grattan Puxon, at the first World Romani Congress in 1971, was one of those Roma leaders who decided on the establishment of the Roma Nation Day, a unifying flag, the Djelem-Djelem Romani anthem, and officially declaring of Roma as politically visible nation. Today, being a member of the International Roma Union and simply an eager activist for Roma, Gypsy and Travellers rights, he is here to explain the purpose of the Roma Democratic Transition process.
Alunica Lepadatu: Why is Democratic Transition (DT) so important now?
Grattan Puxon: At the moment, we have people representing Roma and Travellers in the European political arena who are there as experts but don't have a mandate, and this is a great handicap, because their voice hasn't the strength it should have.  There are between 10 and 12 million Roma - if that mandate can be transferred to our representatives, it gives them a new legitimacy, accountability and a new political strength. Democratic Transition can provide that mandate.
AL: We have the example of the World Romani Congress, where a number of Roma leaders sit around and make some important decisions for the entire Roma community. Do you think this decision making process is still valid? 
GP: In 1971 we had to work within the prevailing circumstances. Today is completely different. Nowadays, through IT technology hundred thousands of people can participate in the decision making process. The most important issues affecting the community or population can be decided in a democratic way. A primary question is where collective representation is needed - say before the EU and the United Nations - who should represent us?
AL: I know there are many people who support this initiative, as they wish to have an elected representative, and not a self-proclaimed one, which often happened within Roma community in Europe. Could you explain how those supporters can get involved with the Democratic Transition and become voters or maybe take part in elections as candidates?
GP: Until now we've been working on building up an electronic voting system, with almost 5000 registered voters. We are inviting people through social media to simply send an email to romvote@gmail.com with their names and town locations in order to register themselves first of all as voters and also to express a wish they may have to be candidates. It's all set up and we're building towards having proper elections for the first time – electronic elections for the 11th jubilee World Romani Congress in 2020.
Besides the priority of establishing the electronic elections, another Democratic Transition focus is to set up a team who could co-ordinate the Roma Nation Day in the UK. 
In my view there needs to be much more action in the street. We need to come out in a coordinated manner so those who are against us see that we are united and cannot be picked off one by one or in small, isolated groups.
The first Democratic Transition conference took place on the 2nd of August after the 75th year Roma Holocaust Commemoration event in London.  The meeting brought together some 30 Gypsy, Roma and Traveller representatives from the UK and European states, who agreed to work together to forward the aims of Democratic Transition and the International Romani Union.  Further meetings are to take place in Peterborough and London.
Article and pictures by Alunica Lepadatu
---