"It's time for a change and the change is today" – Tyson Fury on Travellers Lives Matter
29 September 2020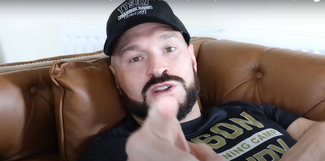 Tyson Fury speaks out about racism towards Travellers, Travellers Lives Matter and the link to Black Lives Matters in a dynamite video interview with Kugan Cassius for boxing you tube channel IFL TV.
"Every other ethnic group, every other race, are standing up and being counted and Travellers need to do the same."
"2020 is a year of change. Its refreshing to see Black Lives Matters and Black people standing up to be respected and counted," says a relaxed and fit Tyson Fury, adding that Travellers need to use the opportunity to stand up and say no to racism against themselves.
"Travellers never stand up for themselves in a way that is political or legal. They get hated on and discriminated against and they don't say anything because – 'oh that's the way its always been'. And now it's not. It's time for a change and the change is now."
The World Heavy Weight Boxing Champion recorded the interview with Kugan Cassius lying relaxed on his sofa in his "humble home" in Morecombe. The interview takes place the day after Tyson Fury made waves by leading a peaceful protest against the 24 pubs, restaurants and garages refusing service to Travellers in the "small" Lancashire town. Tyson Fury, who boxes under the name 'The Gypsy King' also reveals that the protest was spontaneous and organised on the evening it took place.
"If I go into a place and I'm acting rude or out of order then I should be banned. You can't ban an entire race of people," says Tyson Fury, adding that its not the fault of the doorman; "who are just following instructions," it's the fault of the breweries and business owners.
Tyson Fury tells Kugan Cassius about an incident of racism in a bar in Manchester when he was asked for pictures and selfies by the bouncers, and then refused service because he was a Traveller!
"People are still tolerant of racism towards Travellers when they wouldn't be tolerant of racism towards Blacks or Asians or any other race of people. I've seen it in America, I've seen it all over the world.
Its bang out of order and 2020 is a time to say no to racism. I stand up and say no to racism. 2020 is a year of change."
At the end of the first 12-minute section of talking with Kugan Cassius about Travellers Lives Matters, the World Champ asks the interviewer "was that controversial?" before they move on to talking about boxing.
No Tyson Fury, that was not controversial, and you are a hero to many Gypsies and Travellers.
TT News
---