Romedia Foundation from Budapest, Hungary is organizing a free, online film festival on Dec 10-11 for Human Rights Day!
9 December 2020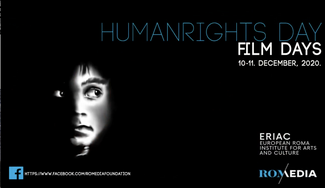 Romedia Foundation from Budapest, Hungary has been continuously working on giving the European Roma community an independent voice, and is actively working on facilitating self representation of Romani communities in the Hungarian arts and media landscape ever since 1992.
The film festival will make it possible for audiences to get to know the work of Romani directors and films that showcase the values of Romani culture.
REGISTRATION AND FULL SCHEDULE: https://tinyurl.com/y5rnx95j
The works were chosen based on the understanding that cultural heritage is formed through reinterpreting, reimagining and redrawing stereotypical representations present within Roma cultural film history. The camera has the power to simultaneously reveal, hide or make visible reality, the creator of a film must be conscious of their ethical and aesthetic responsibilities.
The screened film will include the works of Sami Mustafa, Hamze Bytyci, Lisa Smith and Pablo Vega, and some audiences will also be able to see the award-winning Alina Serban's historical short film Letter of Forgiveness and Roz Mortimer's The Deathless Woman for the first time here. The festival will pay special attention to children, who get a separate section with great animated films which will be interesting for little ones and adults alike! Some of the films were made by Romani creators about other cultures (such as Africa: The Beat, which invites us on an amazing musical journey) to further emphasise togetherness and the fact that Romani filmmakers have a diverse vision and diverse interests, just like any other artist.
The festival is supported by the European Roma Institute for Arts and Culture - ERIAC.
We will stream panel discussions on our Facebook page as well, where filmmakers, activists and historians discuss the selected films to help audiences understand the importance and cultural context of each one better.
Romani filmmakers from ERIAC, Hungarian journalist and Romani human rights activist Ágnes Daróczi and Margareta Matache, professor or Harvard University will participate, moderated by Katalin Bársony of Romedia Foundation.
---