FFT host Labour Conference Fringe Event: 'What does the Policing Bill mean for Gypsy and Traveller communities?'
16 September 2021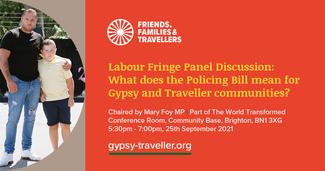 From 5:30pm – 7:00pm on Saturday 25th September, national charity Friends, Families and Travellers will hold a panel discussion focussing on Part 4 of the Policing Bill which includes plans to imprison, fine and remove the homes of people living on roadside camps.
The event, which will be chaired by Labour MP Mary Foy, will provide a platform for speakers from Romany and Traveller communities including:
Jake Bowers, Romany activist, journalist and Drive2Survive founder member
Mattey Mitchell, Romany campaigner at Friends, Families and Travellers, core Drive2Survive member
Chelsea McDonagh, Irish Traveller activist, writer, and senior researcher
Alison Hulmes, Welsh Romani Gypsy, National Director for Wales at the British Association of Social Workers and co-founding member of the Gypsy, Roma and Traveller Social Work Association
The Policing Bill poses the biggest assault on nomadic existence for decades and embodies the hostile environment against Gypsies and Travellers. The Bill, currently in parliament, seeks to criminalise trespass and introduce tougher police powers of eviction which will have a devastating impact on Gypsy and Traveller communities and likely to capture others experiencing homelessness.
The speakers will share what the Policing Bill means for their communities and outline a human rights based and humane approach to the accommodation needs of Gypsy and Traveller people.
The event will be held in the Conference Room at Community Base, 113 Queens Road, Brighton, BN1 3XG. Attendees will be provided with snacks and drinks. We will be releasing information on COVID-19 related entry requirements in advance of the event, so please visit the FFT website, which will be updated with information closer to the time.
Speaking about the event, Sarah Mann, Director of Friends, Families and Travellers said:
"The Policing Bill presents the biggest threat to Gypsy and Traveller communities that we have seen for decades. We have seen huge opposition to these proposals, not only from the police but from across society in recognition of the implications for human rights and civil liberties. We invite you to come along to our event to hear from Gypsy and Traveller people about how we can work together to meaningfully oppose the plans set out in the Policing Bill."
---