Ruby Smith reviews 'Leaves In A Holocaust Wind'
9 August 2019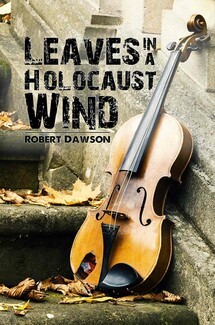 Youth reviewer Ruby Smith shares her thoughts on Leaves In A Holocaust Wind, a novel by Robert Dawson set during the Romani Holocaust in World War Two.
Leaves In A Holocaust Wind was a really emotional story, and I found myself
captivated by the words and voice of the writer, Robert Dawson, who seemed to be
beside me reading the story. It was full of emotion and heart, with beautifully crafted
characters, such as Foxy and Zuzzi, and wonderful settings that I found enthralling.
It was impossible not to fall in love with the tale, and I am now craving more from the
author.
Dawson has been interested in the Gypsy/Roma/Traveller community since he was
eleven, and has written another book called Tuesday, Wednesday Quake Day using
characters from the community, too.
His descriptions of the Gypsy way of life offer an insight into what it is like for the
community and it is cleverly presented through romance and mystery.
I read through the book in just a single day because whilst the chapters are short,
they flow seamlessly, each adding to the fascinating tale which is being told to you.
Dawson paints a heart-shattering tale of lives which are no longer whole, heartbreak
and the will to survive.
Dawson is a talented writer, that much is evident in the words which brought me so
much feeling in just one short day. It is good to see such a talented writer
representing the community in more than one of his works. Truly a pleasure to read
a book that I will most definitely be reading again. I hope to read more from Robert
Dawson very soon.
If you enjoyed this you might like to read Ruby Smith's review of Tuesday, Wednesday, Quake Day, another book by Robert Dawson.
---