Samantha Bryans journey to Arts Award success on elective home education
5 July 2018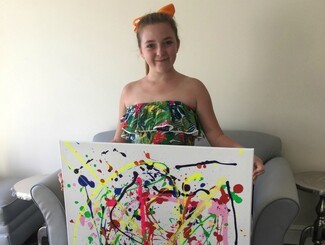 Samantha Bryan tells YTT about her Art Award success. The young Traveller was supported by  Lincolnshire Travellers Initiative, a charity committed to creating opportunities and positive futures for Lincolnshire's Traveller communities. So far, they have supported 30+ young Travellers to gain the Arts Award qualification and are still counting. 
My name is Samantha Bryan and I live in Grantham, Lincolnshire. I am home educated as a lot of other young Travellers are…………………….writes Samantha.
I find that this suits me better than school as I can concentrate on the subjects that interest me as well as my curriculum studies. I really look forward to doing my Arts award and my Princes trust certificates.
My Arts Award journey has been fun! I have found interesting facts about famous artists I didn't know existed and tried to have a go at some pieces of work in each one of their different styles.
I especially enjoyed Pollock and Mondrian. Each artist was unique in their own way. I love putting bright colours with charcoal and feel that it has a real impact. My design section was one of my favourites as your mind can run wild and when mine does the possibilities seem endless.
Clothes design is one of my favourite things and one day I hope to sell my label. 'So music' in the high street so watch out!
The final section of my Arts award, 'my arts idol', was one of my favourites. I enjoyed using power point and researching one of the greatest country starts of all time Dolly Parton.
Not only is she an inspiration to woman girls around the world but she also gives out the message that no matter where you may start out in life you should just follow your dreams.
As part of the Arts Award my theatre visits were exciting because you never know what to expect even if you know the story.  Each show is different, mistakes can happen or two different people can portray one role so differently.
All in all I have loved every minute of my Arts Award and I think it has been well worth all the hard work and messy times!  It will add to my portfolio and will be work I can be really proud of.
YTT at Travellers' Times wants to say a huge congratulations to Samantha. Her Arts Award was assesed as outstanding by Trinity College!
The end of school definetley does not mean the end of your education! If your home educated have you considered doing an Arts award or finding out more about what courses the Princes Trust offer?
If you think you have what it takes to do an Arts Award, you can find out where your nearest Arts Award centre is here. 
---