Lord Avebury – one of the greatest friends the Gypsies ever had
19 February 2016
He was a good boxer when he was young, but he liked the odd cigarette as well. In the end he gave up the fags and the drink and stuck to his work and his family. By his mid-30s he'd got sick and tired of seeing Travelling people get evicted from waste ground and lay-bys with nowhere to go, so he made it his business to do something about it. He stuck to his guns and fought for Gypsy and Traveller rights for the next 50 years.  He was ill for a long time, but he wouldn't let it stop him going to work 'til the very end. The Travellers will never see another one like him again.
This man wasn't a Traveller, he was a Lord: Eric Lubbock, the 4th Baron Avebury, former MP for Orpington and Liberal Democrat life peer in the House of Lords. He died on Sunday, and he was one of the greatest friends the Travellers ever had.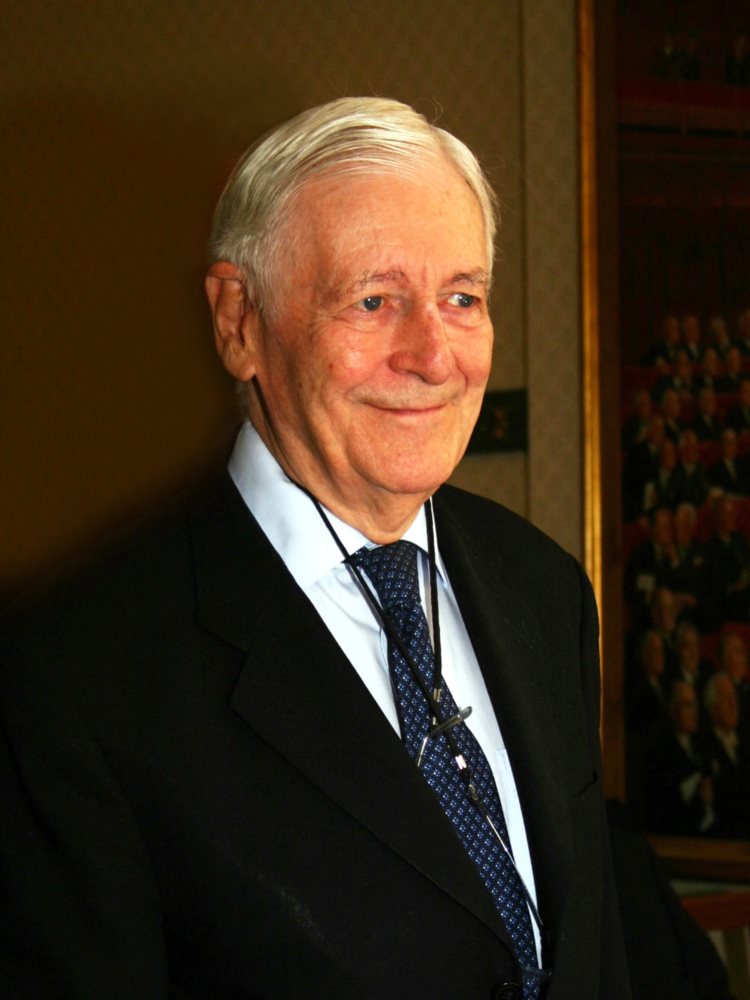 For the wider public, Lord Avebury- then known simply as Eric Lubbock- was probably best known for winning the Orpington by-election, against the odds and by a crushing margin, in 1962. Orpington was a safe Conservative seat and this was a massive moment for his party: he soon acquired the nickname of 'Orpington Man', and later joked about how "in 1962 the wise, far-seeing people of Orpington elected me as their member. In 1970 the fools threw me out." He campaigned to have the voting age lowered, and was a lifelong supporter of many human rights causes, especially those of refugees and asylum seekers.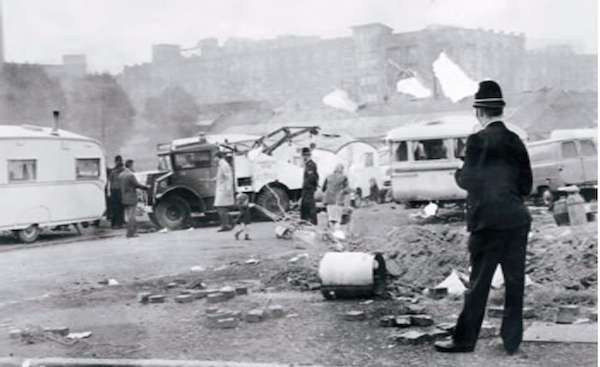 An eviction of Travellers in Birmingham in the 1960s. Source: GRTHM website. Photographer not known.
But for the Gypsies, Roma and Travellers who worked with Lord Avebury, he will always be remembered as the most loyal and long-serving friend they have ever had in the corridors of power. In 1968 he tabled the Caravan Sites Act and saw it brought into law. It meant that, for the first time in history, councils would have to provide somewhere for Gypsies and Travellers to site their caravans. Most of the local authority 'Traveller Sites' in Britain were built as a direct result of Lord Avebury's work.
His election to Orpington- which was then in Kent but now falls within the London Borough of Bromley- brought Lord Avebury into contact with the area's historically large Romany Gypsy community.  "Gypsies used to pass through the constituency on the way down to the hop fields," he later recalled. "I also knew Norman Dodds [MP] who was the great defender of Gypsy rights, and who was my neighbour in the next door constituency. And when he died, I sort of took up the mantle of looking after the Gypsies."
It was a good job someone did, because the inequalities Gypsies and Travellers faced were obvious and harrowing. This was a time when many Gypsies and Travellers were denied school places and still lacked any healthcare whatsoever. Evictions to dangerous roadside locations, such as the verge of the A2 in north Kent, were common, and women were giving birth mere feet from the wheels of hurtling lorries that shook their trailers. It was the time of the formation of the Gypsy Council and the beginnings of the organized (and ongoing) struggle for Gypsy and Traveller civil rights.    
Lord Avebury was typically understated about the importance of what he had contributed to this work. "In 1968, I introduced a law to prevent Gypsies and Travellers from being evicted from their sites," he said at a meeting to celebrate the first Gypsy, Roma and Traveller History Month in 2008. The Act would also "compel authorities to build sites for Gypsies and Travellers." Centuries of prior legislation had targeted Gypsies for expulsion, hanging, deportation and exclusion from every aspect of society. Lord Avebury's calm demeanour and modest choice of words masked the fact that his was one of the only laws ever introduced that actually aimed to help the Gypsies survive.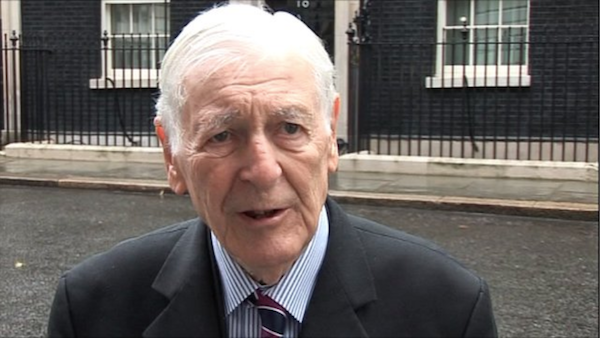 Lord Avebury tells the BBC in 2011 that the Dale Farm eviction is "so stupid, I can't believe it's going to happen". Picture: screengrab from BBC News
Lord Avebury's views were never a weathervane of public opinion. They sprang from a crystal clear sense of justice and equality, of what these words meant in the modern world, and of the people who were still being denied access to either. "The eviction at Dale Farm is just so stupid, I can't believe it's going to happen," he told the BBC in 2011. "You've got 50 families who are living peacefully on the site, who are going to be thrown on the roadside with all the disruption that that involves to family life; the disruption to the children's education; use of police manpower when the police are being cut: it doesn't make any sense at all." 
The slow progress towards equal educational outcomes for Travellers upset Lord Avebury deeply. He was president of the Advisory Council for the Education of Romany and other Travellers, and for many years chair of the Department for Education's Gypsy, Roma and Traveller Stakeholder Group, as well as being patron of the Traveller Movement. He frequently convened special meetings in Westminster to scrutinize how far Travellers had come in the long fight for equality, and to look at new approaches to old problems, like the tensions that tend to surround Travellers stopping in an area, but he made sure that the principle of equality was always the bedrock of the discussions. "If we are going to pretend that we are an equal society, then the rights of Gypsies and Travellers are just as important as the rights of Black people, or Muslims, or any other minority," he said at one such meeting in 2015.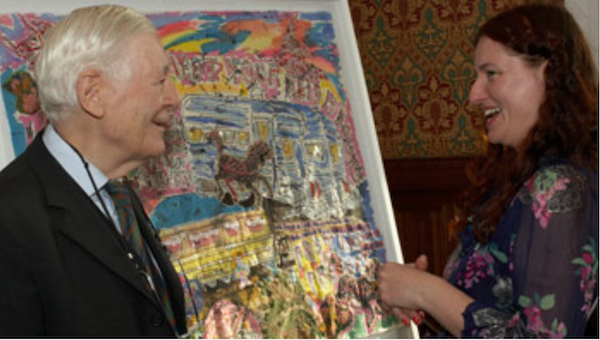 Lord Avebury with Romany artist Delaine Le Bas in 2008. Source: GRTHM website
In 1994, the Conservative government repealed the duty on councils to provide anywhere for Gypsies and Travellers to stay. It was a backward step that predicted the party's later moves against the communities, none of which impressed Lord Avebury much. "The government have pretended to have a policy of providing sites for Gypsies, and actually opposed every application that they have made. The Secretary of State [Eric Pickles] has "called in" all the applications by Gypsies in the green belt, and stymied them, and that, I am glad to say, the courts have found illegal," he said in an interview with The Travellers' Times last year.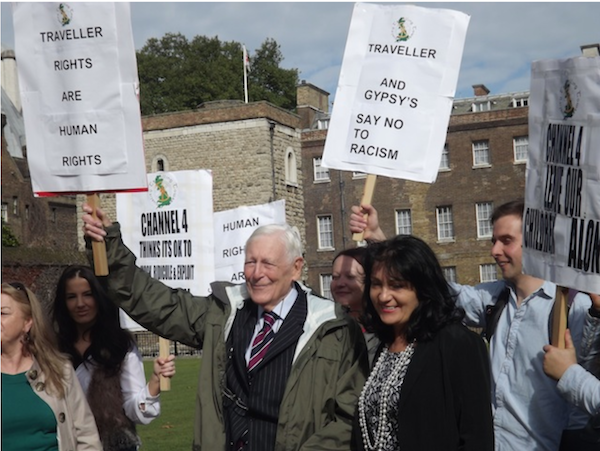 Lord Avebury campaigning with the Traveller Movement against racist broadcasting, 2012. Photo source: Advisory Council for the Education of Romany and other Travellers
"We are supposed to live in a society that is equal," he said in the same interview. "We passed the Equality Act in 2010, and that provided that there should be no discrimination in employment, in education, and in the provision of public services against people on grounds of race, religion, gender, disability, sexual orientation, you name it.  And Gypsies ought to benefit from this Act, but unfortunately it's the only community that still encounters prejudice and hatred, and this we have to conquer," he said.
In an establishment that has often gone out of its way to make life harder for ethnic Travellers, Lord Avebury was a stalwart champion who stood by them like a rock against the tide.  In this context it is not surprising, nor without irony, that most of the obituaries written about him make scant or no reference to his commitment to the Gypsy struggle. Those who were lucky enough to have known and worked with him know better. He will be sadly missed.
---