Article 12 receives a boost
9 June 2016
Scottish charity receives boost to support young Gypsies and Travellers' lives
Article 12, a Gypsy and Traveller charity in Scotland, has been granted a further 5 years funding from the Big Lottery Fund for their Young Gypsy/Travellers' Lives [YGTL] project.
The projects aim is to equip young Gypsy/Travellers with skills, knowledge and confidence necessary to identify, highlight and address issues relating to them and the wider Gypsy/Traveller community to exercise their right to speak for themselves so that they may live in a diverse Scotland, free from prejudice.
Young Gypsies and Travellers involved in the work of the previous project have contributed their experience to drive forward the agenda of a new project as peer mentors working with young men and women from the community across Scotland.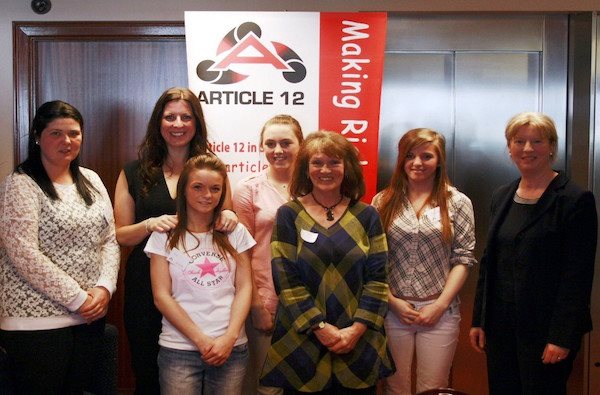 Bernadette Williamson, Peer Mentor for the YGTL project and Chair Person of Article 12 in Scotland's Board of trustees, had the following to say about her experiences with the project so far:
"I heard about the YGTL from my cousin when I was visiting her in Aberdeen. I went to a meeting in Dundee with her and was welcomed with open arms from the start. I don't know where to begin when I think about all the opportunities and experiences I have had thanks to the project over the past five years.
I was trained as a peer educator and have delivered training about my community to a wide range of people- such as in schools, with young people from the settled community, with professionals and practitioners- from all levels of society. Delivering a training to a group journalists from the BBC was one of the best and a real highlight for me. It's about an exchange of views and perspectives- they learn about our community and we learn from them. One of the most memorable times was when we were in London taking part in a consultation against a Bill of Rights replacing the Human Rights Act.
When I first started with the project I had no confidence at all, like a little hermit but the more you become involved, the more confident you become. I still get nervous though! Like the time I was presenting to a group of academics at Strathclyde University. Actually, this lead to a great piece of partnership work which will result in me gaining a formal accreditation for my work in October this year.
Having left school at such a young age with no formal qualifications this was an amazing thing for me. I never thought I would get something like this and because I enjoy it so much it doesn't seem like work, although when I look back I have learned a huge amount.
Ever since the age of five or six I have known that I want to be a writer- creative writing, journalism. I would really love to see articles I have written published but I don't know what kind of area I would like to write about yet- there are so many stories to be told around the world. I think the first step might be to do my own blog and build up my confidence that way.
Being part of Article 12 and the YGTL project has made a major difference in my life, personally and professionally. It's shown me a lot of skills I didn't know I had. I can't really put into words what Article 12 has done for me, without it I have no clue where I would be now. I think still sitting in the house or maybe I would've got married out of boredom! Now I feel that there are so many opportunities out there for me and the world is my oyster."
For more information visit www.article12.org
---