Defining Travellers out of Existence – The Battle Continues
26 July 2016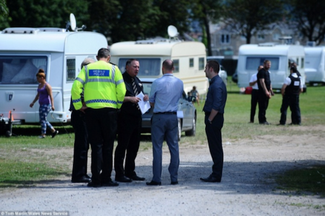 Traveller's Advice Team update on the ongoing legal challenge to the new planning law redefining Gypsies and Travellers
"We think it is absolutely vital that the disastrous new definition is challenged"
The Traveller's Advice Team are launching a legal challenge against the Legal Aid Agency  on behalf of two Gypsies as they continue to fight the new definition of Gypsy and Traveller contained in the Government's new planning laws for Traveller sites.
The Traveller's Advice Team writes: "The Legal Aid Agency (LAA) are arguing that our clients' cases are academic since final decisions regarding their matters have not yet been made.  We totally disagree with this but we are very interested in hearing from any Gypsies or Travellers who have had final decisions made where the new definition has been used adversely against them e.g:
1. Refusal of planning permission.
2. Not being taken into account in a Gypsy and Traveller Accommodation Needs Assessment.
3. Being excluded from a local authority site waiting list. 
Please phone the Traveller's Advice Team on our advice line at 0121 685 8677 if this applies to you.  We think it is absolutely vital that the disastrous new definition is challenged. 
For more on this subject by Marc Willers, Simon Ruston and Chris Johnson, please see:- http://travellerstimes.org.uk/Blogs--Features/SHOCK-NEWS--NO-SITES-FOR-TRAVELLERS-NEEDED.aspx.
STOP PRESS: Legal aid has been granted to one of our clients to take a judicial review action against the Legal Aid Agency for refusing to grant legal aid for a challenge to the Government over the definition. Watch this space!
---