Romany Theatre call out for British soldiers
20 November 2017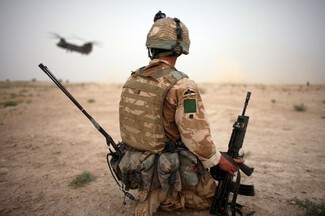 Dan Allum, the Artistic Director of the Romany Theatre Company, recently adapted the DH Lawrence novella, The Virgin and the Gypsy into a play for BBC R4. The play was set just after the First World War and the lead male character was a Traveller who had been a soldier in that war.
Now Dan is re-adapting the radio play into a musical drama for the stage. But he wants to make the stage version a contemporary play and set it in the present day. He also wants the lead character to remain an ex soldier. Although it's a fictional play, Dan wants the drama to be as close to reality as possible. So he would like to know if anyone is aware of any Travellers who have recently served, or who are currently serving in the British army, particularly if they have had tours of duty in Iraq or Afghanistan. So if you know of anyone, Dan would like to hear from you.
You can get in touch with Dan through the Travellers Times by emailing us at:…. Or calling us on:… and we will pass your information and contact details on to him.
Dan's latest musical drama, Carmen – The Gypsy, (another R4 adaptation) was recently developed at The National Theatre in London and goes on a National UK tour in 2018.
Many thanks
---