St Cyrus families 'living in fear' as eviction threatens
16 January 2018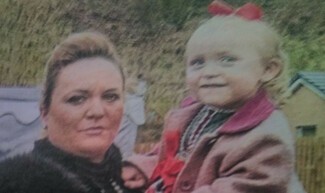 Vulnerable children face an uncertain future ahead of Aberdeenshire Council's decision on whether to go ahead with the St Cyrus Traveller site eviction
Families with young children with special needs and adults with chronic health problems living at a Traveller site near St Cyrus in Scotland, may be forced to quit their homes and go back on the road if Aberdeenshire Council enforces a closure order from Scottish ministers.
The council meets this Thursday (January 18) to discuss whether to enforce the eviction decision on North Esk Park – home to an estimated 37 adults and 24 children.
This would mean that children like three-year-old Serenity McMillan (pictured above), who was born many months prematurely, will lose the health care which has seen her condition gradually improve while she has been living on the site.   Serenity's mother, Rachel, suffers from chronic Crohn's disease and she fears that if they have to go back on the road and are unable to register with a doctor, both she and her daughter will go untreated.
Rachel McMillan said that living at North Esk had been "life changing" but that since the Scottish ministers decision, she has been "living in fear".
"It's been wonderful to see Serenity respond to treatment and my condition is now being properly managed," she said.
"But ever since the Scottish ministers made their decision that the site should close we have been living in fear.  If the council can't find a solution all that good work could be undone."
Other children would lose out on the education services which have been established on the site, and some families would lose the homes in which they have invested their life savings.
Scottish ministers called the planning decision in for their own determination in 2016, after Aberdeenshire Council initially passed the North Esk Park planning application. The ministers overturned the decision because of fears of flooding – fears that the residents say are without any grounding in evidence.
Planning consultant Alan Seath, on behalf of the residents, has sent every Aberdeenshire councillor a letter explaining the resident's case. The letter – seen by the Travellers' Times - strongly disputes the reasons given for the ministers' decision and calls on the council to "enter into dialogue and find a solution that suits everyone."
(Main picture: Rachel and Serenity McMillan)
---