Scottish Inquiry to investigate Quarriers, Aberiour and Barnardos for historic child abuse
15 August 2018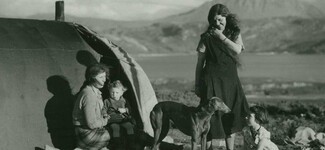 The Scottish Child Abuse Inquiry has appealed for witnesses to come forward and give evidence, as its investigations into historic child abuse by state, voluntary and religious institutions in Scotland gathers momentum.
Many Scottish Traveller children where taken from their familes and placed in voluntary institutions - or 'Industrial Schools ' - run by organisations such as the Quarriers and Barnardos. The systematic abuse began at the start of the Twentieth Century and continued up to the 1960's with many of the children also being forcibly migrated abroad – mainly to Canada.
The Inquiry is appealing for victims and witnesses to give evidence to a panel of experts. The hearings will start in Autumn this year.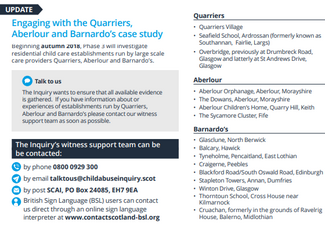 "There are some really tragic stories," says Scottish Traveller campaigner David Donaldson.
"One I know about is from 1907 and I keep going back to it is because it was so tragic. What happened was the wife drowned in an accident and she left her husband with ten children. They were under constant supervision from the state with people visiting, and all these threats and things. The man eventually committed suicide and then all the children were taken and sent to the industrial schools (like those run by the Quarriers) and then on to Canada and Australia. "
The Travellers' Times is in contact with the Inquiry and, although its remit is all Scottish children, we have been reassured that Traveller children are very much on the Inquiry's agenda. The Travellers' Times also understands that a Traveller woman has already given evidence to a panel investigating religious homes for female children.The English Inquiry into state-enabled child abuse and forced migration programmes failed to mention Gypsies or Travellers once in any of their final reports.
The key to understanding the systematic nature of the removal of Traveller children in Scotland is an 1895 government report, says David Donaldson.  The report recommended the removal of children from their families as a way or eradicating nomadic and itinerant Scottish Traveller culture, he adds.
"This policy was still in operation in the 1950's," says David Donaldson.
"There are a lot of people who grew up in these industrial schools and never knew they were Travellers – they were completely denied their culture and their family. A lot of them grew up with mental health difficulties and a lot of them committed suicide."
By Mike Doherty/TT News
(Lead picture: Scottish Travellers by Loch Eriboll ©National Trust Images/Edward Chambré Hardman Collection)
---