Romany family set to sue government over suspicious death of young Johnny Baker-Heffernan in prison
19 September 2018
"We expected Johnny to learn a lesson in life and be rehabilitated. Instead he came home in a coffin."
A Romany family is set to take the Ministry of Justice to court, claiming that new evidence has come to light that shows that the official investigation into his son's death in prison was "flawed" and that there has been "a cover up" by the authorities to hide the truth.
Johnny Baker-Heffernan, 22, died in Swaleside Prison, Kent, in March 2012, and his family – father John Heffernan and auntie Shelley Heffernan - have been fighting for justice ever since, a fight that, Shelley Heffernan says, has taken a "devastating toll" on the health of their family.
"We know that there has been a cover-up about the way Johnny died," Shelley Heffernan told the Travellers' Times. "It's taken six years to get where we are and we are not going to give up. We need to know the truth, we want justice, and we will have our day in court – for Johnnie's sake." The family are set to get their day in court and have lodged a claim and engaged a lawyer – but at this moment in time no date for the case has been set.
The initial coronor's verdict, based on a doctor's autopsy on Johnnie's body carried out in the prison eight days after his body was found, recorded that Johnny was found dead and suspended by a bed sheet in his cell on the morning of the Tuesday, 20th March, and that the actual death was sometime around the night before on the 19th/20th. The cause of death, the coroner recorded, was suicide by hanging. The prison staff, continued the coronor, had some liability for Johnny's suicide because he was being bullied by other inmates and the prison had failed in its "pastoral care" for him.
Swaleside Prison on the Isle of Sheppey in Kent, known as 'Stab City' to inmates, has an awful reputation, has suffered from riots and is awash with drugs and violence and has been repeatedly condemned by official prison inspectors as "dangerous" and "unsafe". Johnny was not on any kind of suicide watch.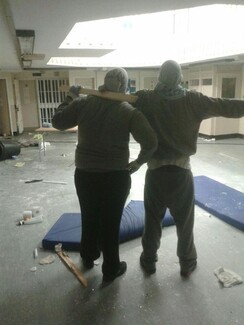 However, John Heffernan does not believe that Johnny took his own life as a result of bullying. The Travellers' Times has seen evidence produced by the family that seriously casts doubt on the veracity of original autopsy on which the coroner largely relies. In 2016, after being forced to take a break for fighting for justice for his dead son because he was "close to breakdown" with stress, John Heffernan commissioned an independent expert forensic pathologist to examine the original doctor's autopsy of Johnnies body and to provide his own opinion in a report. This report, sent to John Heffernan and seen by the Travellers' Times, is damning.
The independent pathologist, Professor Duflou -  an international expert in his field - recorded in his report that the original autopsy carried out on Johnnie's body in the prison was a "markedly substandard investigation … and as such the probative value of the autopsy specifically and the death investigation in general has been significantly compromised." The pathologist also noted, from viewing the photographs taken at the scene of where the prison authorities found Johnny's body, that the original doctor's autopsy report had completely missed a "clean cut irregular incised wound/stab wound" on Johnny's neck. That the original autopsy was carried out eight days after Johnny's body was found was also of concern and "was not best practice", Professor Duflou stated.
Damning! a "markedly substandard investigation" says independent forensic pathologist
In a later inquest into Johnny's death in 2015 which was fought for tooth and nail by his family and in which they represented themselves, the verdict was much the same as the original coronors verdict. During the inquest, the prison service produced a witness, a former inmate of Swaleside Prison at the time of Johnny's death, to back up their version of events. The prisoner witness, protected by anonymity, appeared in court handcuffed to two prison officers. The prisoner told the court that Johnnie had been jabbed in the neck with a fork by other inmates two or three days prior to his death and that this was part of an ongoing bullying campaign against him. The verdict of the inquest was that Johnnie had taken his own life after being bullied and that the prison staff bore some responsibility for not protecting him. No one has ever been named and charged with bullying Johnnie, or stabbing him in the neck with a fork.  
John and Shelley Heffernan dispute these verdicts, and the statements of the anonymous witness, and they claim that Johnnie was murdered in prison, and that this murder happened one or two days before the officially recorded date of Johnny's death. They also claim that this murder was subsequently covered up by prison authorities. The Travellers' Times has been shown some potential evidence to support their claims, but has been unable to verify that evidence and therefore has been unable to publish it for legal reasons. The TT is in the process of attempting to verify this evidence. John Heffernan also claims that the bed sheet was not available to the courts or for independent forensic examination because "it had gone missing from the scene of Johnny's death."
"We now have the original high resolution photographs from the autopsy," John Heffernan told the Travellers' Times. "From these we can see the stab wound that the original autopsy missed more clearly and it is devastating. It was not caused by a fork."
"This is no suicide by hanging and is obviously a cover up," he adds. "Too many young men and women are being killed in jail and the pathologist, the coroners, the police the prisons write them off as suicide which is so easy to do. My son had plans to become a property developer, he was smart, intelligent and he was talking about getting a degree when he got out. He lived in Australia with me for a few years he had a bright future. We expected my son to be taught a lesson in life and to be rehabilitated. Instead he came home in a coffin. We are left with a nightmare for the rest of our lives."
The Travellers' Times will be following the Heffernan families fight for justice as more evidence comes to light and will be attempting to verify evidence that we have already seen so we can publish it.
By Mike Doherty/TT News
---