Lawyers confident that council anti-Traveller camp injunctions will be ruled unlawful after court challenge
5 December 2018
Lawyers acting for a Traveller NGO that challenged Bromley Council's interim anti-Traveller camp injunction are confident that all current injunctions will be found to be unlawful after the judge dramatically adjourned the hearing to allow more time for the challenge to be considered.
Anti-Traveller camp injunctions - one of the biggest issues facing those in the Gypsy and Traveller community who are still nomadic
NGO London Gypsies and Travellers, represented by barristers from Garden Court chambers and lawyers from Traveller law experts Community Law Partnership, went to court last week to challenge Bromley Council's attempt to extend their interim injunction banning 'persons unknown' from camping anywhere on public land in their area. The court case was adjourned by the judge after an "11th hour beezer legal argument" challenging the lawfulness of Councils increasing use of blanket 'borough-wide' injunctions was put before the court by barristers Mark Willers QC and Tessa Buchanan, say the lawyers.
Speaking before the court challenge on the 26th November at the Royal Courts of Justice, LGT's Chief Executive Debby Kennett said that the "rapid spread" of councils applying for injunctions banning Travellers was "fast becoming one of the biggest issues facing those in the Gypsy and Traveller community who are still nomadic and living on roadside camps."
"We are seeing a domino effect," said Debby Kennett. "Once one borough has acquired an injunction order then the neighbouring boroughs are quickly making applications to do the same."
We are seeing a domino effect
Currently 21 local authorities in England have obtained injunction orders. In London the majority of injunctions are against unspecified "persons unknown" effectively banning all roadside Gypsies and Travellers from occupying open land. This means that they may be fined, imprisoned or have their property seized if they continue to camp in these areas. In London, the boroughs of Croydon, Sutton, Bromley, Barking & Dagenham, Enfield, Waltham Forest, Greenwich and Redbridge have all recently applied for, or obtained, injunction orders and others, such as Wandsworth, Kingston and Richmond are in the process of making applications.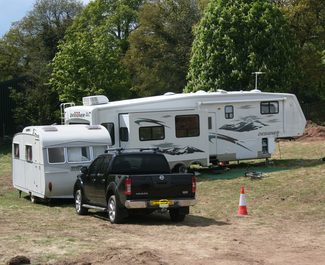 Elsewhere Boston, Basildon, Canterbury, Elmbridge, Harlow, Rochdale, Rugby, Sandwell, Tendering, Thurrock, Walsall and Wolverhampton have also have obtained injunctions.
The barristers legal argument that forced another hearing, and stalled Bromley Council's attempt to obtain a full injunction, hinges on the reliance of council's interpretation of the Town and Country Planning Act 1990 and their belief that all unauthorised camps infringe planning rules. This, the barristers say, fails to take into account that some unauthorised camps, in certain circumstances, do not infringe planning rules, making blanket injunctions against 'persons unknown' unlawful.
"It appears that most if not all of the injunctions obtained to date are unlawful," said a spokesperson from Community Law Partnership.
In a statement given to the Travellers' Times, barrister Tessa Buchanan summed up the challenge against the injunction in Bromley.
"London Gypsies and Travellers were granted permission to intervene in the case of Bromley London Borough Council v Persons Unknown," said Tessa Buchanan.
"This case concerned an application by the London Borough of Bromley for an injunction which would prevent people from camping on 171 parcels of land in their borough"
"We are aware that a number of local authorities are applying for and/or have obtained injunctions of a similar nature in their own areas. We are very concerned about the implications of such injunctions for nomadic Gypsies and Travellers. These injunctions criminalise their traditional way of life. There is a serious shortage of authorised sites and stopping places, meaning that many Gypsies and Travellers are forced onto unauthorised encampments with no other options."
"In this case, we will be asking the court to consider the lawfulness and proportionality of the injunction sought by Bromley."
They added that Travellers based in an area where the injunctions are in place who are directly affected by them should get in touch with the Traveller Advice Team through their free legal helpline on 0121 685 8677.
The final hearing for Bromley Council's attempt to get a full injunction is now listed in the Royal Court of Justice on the 19th February. In the meantime, Bromley Council's interim injunction will remain in place.
Lawyers from Community Law Partnership and Garden Court Chambers successfully challenged the then Minister for Communities Eric Pickles, who was found by a High Court Judge to be unlawfully running a racist policy on Traveller site planning permissions.
Marc Willers QC, alongside law firm Howe & Co, represented Travellers against JD Wetherspoons in a landmark Traveller discrimination court case in which the giant pub chain was found to have broken equalities laws when it refused service to a group of Travellers.
By TT News
(Main picture: London Gypsies and Travellers demonstrate against injunction outside Wandsworth Town Hall © LGT)
This article was amended on the 6th December to remove CLP's call out for volunteers, as they now have enough, and to add a further statement kindly provided by Tessa Buchanan from Garden Court Chambers.
---